GIST Support International's Bob Spiegel and Brad Clark Memorial Second Opinion Fund for Travel and Treatment
Because GIST is a very rare sarcoma, it is sometimes necessary for the patient to travel to a sarcoma expert for a second opinion or treatment. Realizing the importance of getting patients the best care possible, GIST Support International offers a one-time grant to those who need financial help with expenses that are not reimbursed for this travel and treatment. Because the funding for this program is limited, this program will not be open to every GISTer, but only to those who truly need it.
The seed money for this fund comes from the Buffalo Chips Restaurant / Brad Clark Golf Tournament played in Bonita Springs, Florida in December 2008. This event was held in honor of GSI Board member Brad Clark by his many friends in his home town.
GSI hopes to be able to maintain this fund continuously by accepting donations specifically directed to it. Donations may be made by check or online via our Donate page.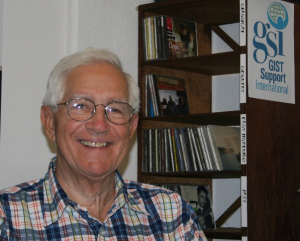 The fund is named for two very special members of GIST Support International's community and its Board:
Bob Spiegel was an infectiously inspiring GSI member who died very suddenly from complications of GIST surgery. Bob had become an integral part of the GIST community with his ever supportive communications, both public and private. He started and implemented the Healing Through Music program for GSI (which continues in operation) and very generously helped members privately when he found a need. He was very much a proponent of this second opinion project as it was being developed, and it was an easy decision for GSI's Board of Directors to name it for him after his untimely death.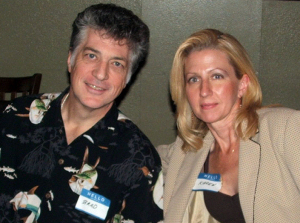 Brad Clark was also a respected and valued member of the GSI community and Board, as well as a special friend of Bob Spiegel, a fellow Floridian. Brad and his friends raised the seed money for the Second Opinion Fund, and he first suggested naming the fund after his buddy Bob. Brad and Bob shared a genuine interest in fellow human beings and enjoyed one-on-one contacts to help patients cope with GIST. Brad was valiant in his efforts to seek a treatment that would allow him to live a long life with his cherished wife Karen (pictured with him at the right) and to see his daughters grow up. Unfortunately, his hopes were dashed when he died unexpectedly not long after a series of treatment changes. The Board members of GSI sorely miss Brad and unanimously agreed to add his name together with that of his friend Bob to the Second Opinion Fund.
How to Apply
BEFORE seeking your second opinion, write to us at gsi@gistsupport.org with a paragraph stating your name, phone number and e-mail address, your reason for seeking a second opinion (such as what question will be answered, or what difference it will make), which doctor you intend to see for the second opinion, and how financial assistance will help you do this.
We will then contact you to let you know if this application is likely to be approved. If you wish, we will also be glad to offer some help coordinating your second opinion visit, finding economical lodging choices etc. in advance of your appointment. Please print out the application form prior to your appointment in order to get the physician's signature while you are there.
Following the second opinion appointment, determine which expenses will not be covered by any other source such as insurance, and then mail in the completed application, complete with receipts and application form signed by the second opinion physician.
Applications made without prior approval may be considered at the discretion of GSI's Board in extenuating circumstances, but not longer than 30 days after the second-opinion appointment has taken place.
Please link to the application form (a pdf you can download), print it out, fill it in and return it after you have obtained your second opinion.
Operating Procedures
1 Purpose
The purpose of this fund is to provide financial assistance for needy GIST patients/guardians to seek a second opinion from a GIST specialist for the management and treatment of GIST.
2 Memorial
This fund is dedicated to Bob Spiegel and Brad Clark, who were members of the GSI Board of Directors and tireless contributors who exemplified compassion and caring for those afflicted with GIST.
3 Fund Operating Guidance
3.1 Disbursement
The fund will reimburse patients/guardians for non-reimbursed expenses related to seeking a second opinion from a GIST specialist. The fund will only reimburse up to the maximum amount of $500.00 for acceptable expenses. This is a one-time only reimbursement for any patient/guardian. GSI reserves the right to decline any submission for any reason. GSI reserves the right to determine and impose caps on reimbursed expenses. The reimbursement will cover expenses related to travel, phone bills, cost of the evaluation, and related expenses. Specifically, the following expenses are covered:
Eligible Expenses
Travel to/from second opinion and/or GIST treatment including airfare, gas, reimbursement for mileage (per IRS guidelines)
Meal expenses (per IRS guidelines) for patient and for adult traveling with minor
Expenses of caregiver travel will be evaluated on a per application basis
Online Consultation services from a certified sarcoma center
Lodging for travel to/from/during treatment at consultation center (per IRS guidelines)
Long distance calls to arrange consultations/treatment
Parking
Expenses NOT Reimbursed
Rent
Utilities
Food expenses (except as noted above)
Clothing
Personal incidental expenses
Automobile repairs or payments
3.2 Reimbursement Guidelines
The patient/guardian must submit the attached form with all receipts once the consultation has been completed. The size of the reimbursement may be limited based on the amount of money in the fund and the number of patients/guardians seeking assistance.
3.3 Canceling the Program
The GSI Board of Directors has the authority to cancel the program at anytime. Potential causes for cancellation maybe related, but not limited to:
Demonstration that the program is not being used for the intended purpose of providing financial assistance for patients/guardians seeking second opinions for treatment of GIST.
The program exhausts all the money in the fund
Other means of obtaining assistance become available
3.4 Eligibility exclusions
Members of GIST Support International Board of Directors and their immediate families are ineligible for funding.