Sunitinib and Hypertension
Many patients taking sunitinib (Sutent ®) experience hypertension (high blood pressure) as a side effect. Numerous patients on our list have described difficulty in getting their hypertension under control, although their physicians have tried a wide variety of anti-hypertension drugs. GIST Support International posed questions about hypertension during sunitinib therapy to Robert Maki, MD PhD and Michele Bradshaw, PharmD.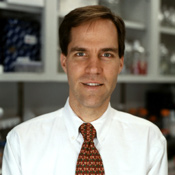 Dr. Maki is a medical oncologist and co-leader of the Adult Sarcoma Team at Memorial Sloan Kettering Cancer Center in New York, NY. Dr. Maki has treated many patients with gastrointestinal stromal tumors, has published widely about GIST, and has been active in numerous clinical trials for GIST patients. Dr. Maki holds MD and PhD degrees and practices in the sarcoma – melanoma program at MSKCC, with one of the largest sarcoma practices in the country.
Dr. Bradshaw is Director of Pharmacy at Biologics Inc., a specialty oncology pharmacy located in Raleigh, North Carolina. She received her Doctor of Pharmacy and Bachelor of Science degrees from Campbell University in Buies Creek, North Carolina. Her special interests include targeted drug therapy and breast cancer research. She is a member of the Hematology/Oncology Pharmacy Association and a clinical preceptor of pharmacy students at the University of North Carolina at Chapel Hill.
Here are these experts' responses to our questions.
WHY does sunitinib (Sutent ®) cause high blood pressure (hypertension) in a significant percentage of patients?
Dr. Maki answered: "First, I have to note that the following comments are generalities and should not substitute for a visit to your doctor to discuss and treat your particular situation."
"No one is clear exactly how these drugs cause high blood pressure (this molecule up, that protein down, etc). However, it is clear that all drugs that block the vascular endothelial growth factor (VEGF) pathway are associated with
(1) hypertension,
(2) bowel perforation,
(3) risk of excessive bleeding or blood clotting.
These side effects are called "class effects" of all VEGF blockers. While (2) and (3) are fortunately fairly rare, (1) is relatively common. It is seen with bevacizumab (Avastin ®), sorafenib (Nexavar ®) and sunitinib (Sutent ®), and has been seen with drugs that are under investigation that are also blockers of the VEGF pathway."
WHICH class of hypertension medications may work best to alleviate this side effect?
Dr. Maki answered: "I can only speak to my own experience. Standard treatment of high blood pressure is with a "beta-blocker" such as metoprolol or atenolol, and/or a diuretic (hydrochlorothiazide, furosemide, etc). However, in my own experience I have not seen these drugs work well, and usually have to try a calcium channel blocker (amlodipine, for example) and/or an angiotensin-converting-enzyme (ACE) inhibitor such as lisinopril for best results. The risk of high blood pressure is a function of both how high and how long. If the diastolic blood pressure (the bottom number of the blood pressure) is more than 100 mm Hg, it should be treated immediately, while you may have a little more time to spare when treating a diastolic blood pressure of 90 or more. The key risks of high blood pressure in the long term (i.e. years) are stroke, heart attack, kidney failure, and vision loss. So it is worth treating, especially if you have diabetes, too. High blood pressure AND diabetes is a big problem in terms of the risk of all those vascular diseases noted above."
Are there potential drug-drug interactions between sunitinib and hypertension medications?
Dr. Bradshaw answered: "Patients on Sutent ® (sunitinib) therapy should be monitored for hypertension and treated with standard anti-hypertensive therapy as necessary. Some medications used to lower blood pressure may actually interact with Sutent ® (sunitinib) and increase the risk for hypertension. Concurrent administration of sunitinib with potent inhibitors of cytochrome P450 CYP3A4 (a liver enzyme) results in increased concentrations of sunitinib and its primary active metabolite. Whenever possible selection of an alternative concomitant medication with no or minimal enzyme inhibition potential is recommended.
Non-dihydropyridine calcium channel blockers such as diltiazem and verapamil should be avoided. They are weak inhibitors of p450 CYP3A4 and may increase concentrations of sunitinib. This increases the risk for adverse effects such as hypertension. Temporary suspension of sunitinib is recommended for patients with severe hypertension (>200mmHg systolic or >110mmHg diastolic).
Anti-hypertensives such as ACE inhibitors, beta blockers, alpha blockers, angiotensin receptor blockers, diuretics, and select calcium channel blockers are better alternatives to treat sunitinib induced hypertension. A combination of anti-hypertensive medications may be necessary to control drug-induced hypertension. Typically a combination of anti-hypertensive medications at average doses is more effective than a single anti-hypertensive drug at the maximum tolerated dose. Selecting the appropriate anti-hypertensive medication is patient specific and dependent upon concurrent medications and illnesses."