GIST Support International - Cesarini Rides for GIST in PMC


Stay Strong, Mike!
Officer Cesarini Cycles His Fourth Pan Mass Challenge
to Raise Money for GIST Research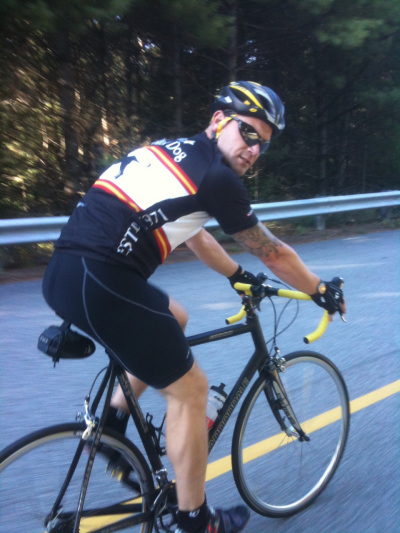 "My husband is an avid runner and cyclist. In our 'precancer' days we both read Lance Armstrong's book It's Not About the Bike. After my surgery we both reread it. On one of my darker days in the hospital, Michael came in with a large wrapped bag. In it was an autographed picture of Lance who had written the words 'Stay Strong, Maura' on it."
Maura Cesarini

When Maura and Mike Cesarini met – on their first day at the police academy – she thought he looked "mean, tough, really physically fit, and very intimidating. The kind of cop you would hate to see walking up to your car in the rear view mirror."
She certainly got the "physically fit" part right. On August 4th and 5th, Mike will be joining thousands of other cyclists in his fourth Pan Mass Challenge (PMC), a grueling 192-mile ride across eastern Massachusetts to raise money for cancer research and treatment at Dana Farber Cancer Institute (DFCI). In Mike's case, though, the cause is very personal: Maura has metastatic GIST, and every cent Mike raises will go toward funding Dr. Jonathan Fletcher's cytogenetics lab at Dana Farber / Brigham and Women's Cancer Center, which focuses on finding new targeted therapies for GIST and other sarcomas.
"The PMC is great for Mike," says Maura, "because he's a very active guy who hates the feeling of being a victim. Raising money for GIST research has allowed him to take at least some of the control back. He can't do the scientific work himself, but he can support the people who do."
Since he began riding in the PMC, Mike has personally raised over $40,000 from contributors throughout the United States and abroad. This year, as Maura turns 43, his goal is to raise $43,000 -- all of which will be earmarked for the Fletcher lab's GIST research.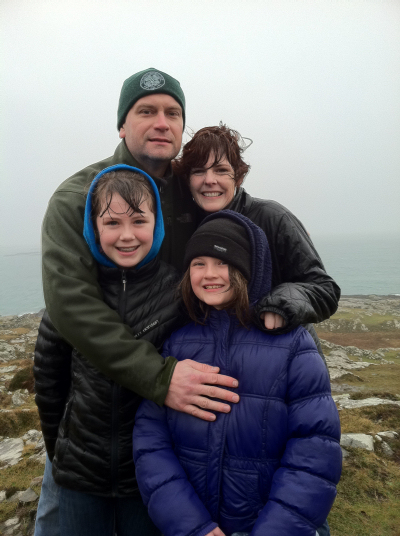 Maura's initial surgery took place at Massachusetts General Hospital, and she has had consultations at other institutions, but DFCI -- with its cutting-edge sarcoma research and highly personalized clinical care – is where her treatment is centered. Her GIST is an unusual and difficult-to-treat wild type involving a germline mutation of succinate dehydrogenase (SDH) that also predisposes to paraganglioma.
In the decade since her diagnosis at age 33, Maura has been on seven different chemotherapy regimens – most recently Votrient (pazopanib). Her husband calls her "incredibly stoic," but she says that she simply does not have time to dwell on her condition. "Thankfully, life gets in the way of cancer. Before my diagnosis, I was a police officer. I hadn't planned to stay home with my kids, because that would not have been an option for us financially. But now I do, which means that I am there every day when the girls get off the school bus. I help with their homework. I drive them to hockey games and play dates. Even brushing their hair in the morning and putting it in ponytails – I am just so thankful that I am still here to do those small, ordinary things."
Maura's struggles with GIST have also deepened the couple's commitment to one another. "I knew when I married Mike that he was a wonderful person," she says, "but I have seen him grow so much since I was diagnosed. You take your vows 'in sickness and in health,' but you never imagine that in a few years they are actually going to be put to the test. But it's been that way for us. Of course, we have our moments like any other couple. But GIST has really made us appreciate one another, our kids, and the times we have together as a family."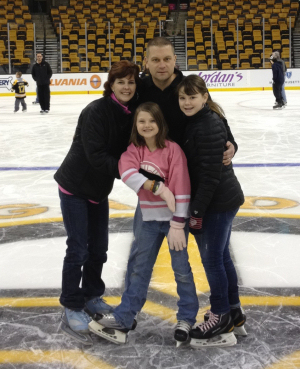 At the time of her diagnosis, daughter Michaella was just 18 months old, and Bella was a newborn. "Our friends took care of the baby as a team," Maura remembers. "They passed her from house to house, fed her, diapered her. And it wasn't just people we knew. Strangers sent us checks and gift certificates to stores like Toys R Us. The generosity was simply overwhelming."
The staff at DFCI responded in kind. Mike recalls Jonathan Fletcher's frequent pep talks: "If he knew Maura was receiving chemotherapy on a particular day, he would come up to her room and keep us company. If he sensed that she was starting to lose hope, he would tell her to not to give up; a cure was just around the corner."
As the Cesarinis got to know Dr. Fletcher and his team, they saw firsthand that funding for basic sarcoma research remains an urgent problem. There was a particular piece of equipment the lab needed: a sophisticated tool called a luminometer that can rapidly assess the effect of candidate drugs on multiple cell lines. But the luminometer cost $10,000 – money that the lab did not have. So Mike joined the PMC and, with assistance from fellow police officers and members of the GIST community, raised $10,000 to purchase the equipment.
CLICK HERE for an interview with Dr. Fletcher telling how each contribution helps his GIST research.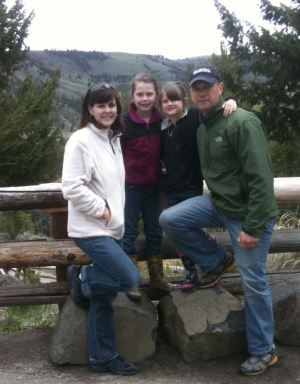 Now the luminometer needs updating, but Mike is not worried. His current PMC goal of $43,000 is ambitious, but he believes it is attainable. "When people hear about the ride they become very engaged, because they know that their contribution is going directly into lifesaving research for my wife and so many others," he says. "Over the years we've gotten contributions from as far away as Europe, South America, and Australia."
And Maura and the girls will be waiting at the finish line in Provincetown with cheers and hugs for their hero. "Illness completely changes your perspective," says Mike. "I was in my late 20s when this hit. I had the job of my dreams, and Maura and I were saving for the future. We had two small children. Travel simply would not have been an option for us. But since her diagnosis, we've gone places and done things that we could never have imagined. Our kids have been to the Grand Canyon and Yellowstone. We've taken them to Canada and the Caribbean. Normally we would have put trips like that off, but in our situation you don't think like that. You make it happen."
Maura sums it up: "You have this one, really crappy thing you have to deal with. But it makes so many other things in life that much sweeter."
On April 30, 2012, the Sarcoma Foundation of America honored Maura Cesarini with a Courage Award, "presented annually to individuals honoring their strength and perseverance in their battle against sarcoma."


You can help!

To donate to Mike's ride, click on this link:
If the link above will not open, try the one just below the final photo.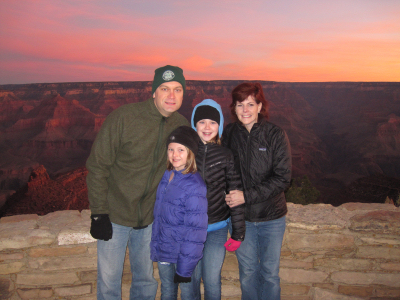 If you could not open the link above, try this one: