GIST Support International - GSI Pins

GIST Support International Pins Are Available!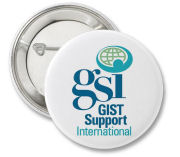 Wear a GSI pin to meet other GIST patients when you go to clinic appointments or attend events. We have made pins with the GSI logo
to enable people to recognize their common interest in GIST.
The pin is 2 and 1/4 inches in diameter.
Cost: $3 each This covers postage and also leaves a small margin of a few cents. All profit goes to the Bob Spiegel/Brad Clark Memorial Second Opinion Fund.
Send any queries to bdore2@gmail.com
Mail your pin request, enclosing your mailing address and a check to:
Barbara Dore
1200 Post Oak Blvd # 2307
Houston
TEXAS 77056
We hope you enjoy your pins!