Bonnie's Story – My GIST is Not a Toothpick
by Bonnie Girard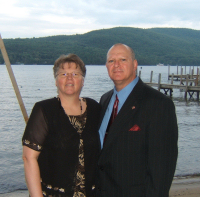 My name is Bonnie Girard. I'm 58 years old. I live in Glens Falls NY, which is a small town in the Adirondacks between Lake George and Saratoga Springs. My husband, Michael, and I have been married for 39 years. We have 3 children, all of who got married within a year of each other (that was quite a year). My oldest daughter Valerie and her husband Dave live in The State of Washington; my middle son Michael and his wife Kim live about 2 miles from us; and my youngest son Tim and his wife Erin and my two grandchildren twins Gavin and Brenna, and a third grandchild on the way in January, live in Maryland.
My husband retired from the post office at a young age of 55 in 2001 after working 36 years nights. I was a stay-at-home mom. When the kids all grew up and were on their own I had little part time jobs. I do not work now. With only having one income for so many years, retirement, (money wise) was easy for us. My husband has been a great caregiver; he has gone to every one of my office visits and goes with me to all the tests. He never complains and goes above and beyond doing household chores. Being retired we are able to travel to Maryland often to see the grandchildren. My grandchildren were born in august of 2003 the same year I was diagnosed with GIST. I really believe they helped me get through that year. I put aside my thoughts about cancer and focused on the thought of being a grandmother.
The Good News and Bad News
My story began in March of 2003. Up until this time my health was very good. I started to have pain in my upper stomach and around my belly button. I went to my family doctor and he started a series of tests to find out what was wrong (X-rays, ultrasound, and CT scan) which showed a small spot on my small intestines and a cyst on my ovaries. He was not worried about the ovarian cyst as it was not uncommon for women to have this, but the spot on my intestines worried him. He sent me to a gastroenterologist who was convinced that I had swallowed a toothpick or a fishbone; I assured him I had swallowed neither.
Thinking it was an infection he put me on antibiotics for 10 days. I was still having the pain and it was not getting any better. So of course he wanted to do more tests. I had an upper GI (nothing there) then the dreaded colonoscopy (I had never had one so I guess I was due for this) and an endoscopy at the same time. Guess what? Nothing showed up. Still puzzled, the doctors suggested I see a general surgeon; maybe I would have to have exploratory surgery. In the mean time I had my appointment with my OB/GYN for my yearly exam. I told my family doctor that I was going to keep that appointment. So he sent all my reports and tests over to him. When the OB/GYN got these reports he called me and wanted me to get blood work done and have an ultrasound done before my appointment with him.
Well the day I went in for my ultrasound the nurse looked at them and immediately went to get the doctor and he came in to see me with a very grim look on his face. He was 99% sure that I had stage IV ovarian cancer and needed to have a complete hysterectomy ASAP. This was on a Tuesday and he scheduled me for surgery that Friday. He wanted a general surgeon to be there too. Before my surgery we met with the surgeon and he was in agreement that it looked like stage IV ovarian cancer. So on May 16, 2003 after 2 months of testing, and still in severe pain, I headed to the operating room. They performed a compete hysterectomy and removed tumors in my pelvic area and found a couple that had ruptured in my stomach (causing a lot of my pain). They removed as many of the tumors as possible. My doctor stated " innumerable small implants the size of "rice crispies" remained in my stomach.
When the doctors were done with the surgery that they were 99% sure it was ovarian cancer and I had about 3-4 years to live and I would have to do chemo. Here is where the good news and bad news comes in. About three days later the doctor comes into my room he says, "I have good new and bad news". The good news was I did not have ovarian cancer. The bad news I still have cancer – a type called GIST. All the doctors involved with my case were shocked, most had never heard of GIST cancer, but my oncologist had heard of it and was on top of Gleevec and the treatment. After I had a chance to heal from the surgery he started me on 400 mg of Gleevec.
On Gleevec
While on Gleevec I had only one small side effect (a little puffiness on the eye lids). Other then that I felt fine. I saw my doctor at least once a month for blood work and followed up with CT scans every 3 months and MRIs every 6 months. I thought if this is all I will have to do for the rest of my life, it's a piece of cake!
Gleevec Fails
For 2-1/2 years Gleevec did the job. Then right before Christmas of 2005 with no warning of any kind I started having the worst pain I have every had in my life in my pelvic area, I could not stand, I could not sit, I could not go to the bathroom. So off to the ER we go. They thought I had a bladder infection. They ran a bunch of tests, gave me a shot of something very powerful to help with the pain and some antibiotics, and sent me home. This was a Sunday night. On Monday I called my oncologist and he wanted to see me ASAP. He admitted me right away into the hospital and took a CT scan and it showed growth of the "rice kipsies" in my stomach a new tumor in my pelvic area (my last CT scan in August showed everything was fine). He upped the Gleevec to 800 mg and I started to feel better. This was not the present I was expecting from Santa this year.
Trip to Dana Farber
By this time I felt it was time to get a second opinion from Dana Farber. So I made an appointment and keeping our fingers crossed we wouldn't have a snow storm and set out on February 6th 2006 to see Dr. George. She assured me that my doctors here were doing all the right things. She talked about Sutent and how it was the next drug to take after Gleevec. I thought to myself I got 2-1/2 years on the 400mg so I should get at least that on the 800mg. Boy, was I wrong.
On to Sutent
Right after my visit to Dana Farber I ended up in the hospital with pain and I couldn't eat. CT scans showed signs of growth again. So on to the next step, Sutent. I started my first cycle on Feb. 24th starting with 50mg. About the 3rd week in my cycle I started to get a lot of the side effects of Sutent. When I almost finished my 2nd cycle my doctor stopped me with about 4 days to go because my blood pressure got too high (started on a new blood pressure medicine) and he was concerned about the other side effects, hand and foot sores, sore mouth, muscle aches. My 3rd cycle I started on 37.5mg; I still had same side effects and but blood pressure under control. With 9 days left of my 6th cycle I started with pain in my pelvic area. My doctor ordered an ultrasound and CT scan. The CT scan showed that one of my tumors that had become a cyst was growing. He knew it was a cyst as cysts are liquid filled and tumors are solid filled, so they look different on scans. So for the next 9 days I took 50mg. Made it through the 9 days and was glad for my 2 weeks off. Nov. 4th I started my 7th cycle doing 37.5 and 50mg alternating days. So the roller coaster ride continues and I hope it will never stop.
How GIST has Changed my Life
I may not get things done as quick as I once did, nor do I worry about the dust on the dressers. I'm trying to organize for the future, where my family may not have their mother or wife in it. As we all know the mom and wife knows where everything in the house is. But my husband and I are determined to battle this disease every way we can.