Ron's Story – 10 Years & Still Going Strong – Sort of
by Ron McClelland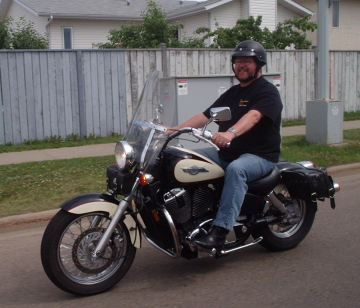 I've been on the GIST journey for years but seldom share it with other people dealing with the disease. I just read and absorb what is on the websites and in the literature. There are so many knowledgeable and articulate people who can shepherd us on this path so I have remained quiet, lurking in cyberspace. But I'm starting a new chapter and I think I should tell my story….to encourage those who are starting the adventure. Things have turned out a lot differently than I thought they would when I was first diagnosed.
In early 1997 I was a mere 47 years old. None of my four daughters was married, two were still in high school and I was enjoying helping re-establish the Church in the former Soviet Union. I developed intermittent intestinal bleeding and a terrible tiredness that I attributed to jet lag and my advancing years (?). After being misdiagnosed a few times by a few doctors a 14-cm tumor was discovered in my small intestine. I was relieved because I was beginning to think the symptoms were, as one doctor put it, "all in my head". The tumor was removed and it took about a month to get it identified as probably GIST. It had all the characteristics of being high risk – size, mitotic rate, necrosis, etc. I struggled with low grade depression for a few months and then decided there was little I could do except continue to trust that the Lord who is my Shepherd would guide me through this valley of the shadow of death.
I changed my ministries back to a local church and quit the international travel. My daughters grew up and graduated. Two of them found husbands and they have given us five grandchildren so far.
I was followed up for five years by my local Cancer Hospital. Then I was declared "cured" and discharged from the outpatient program. (2002) I was feeling so good I decided not to argue. I thought that maybe I'd be an exception and the GIST would never return.
Then in 2004 my family doctor ordered a follow up CT scan and metastasis was discovered in my liver. (One large 6cm lesion) I was referred back to the Cancer Hospital and I was told to put my affairs in order since there was nothing more that could be done. Because I had learned from my reading and the radiologist (a friend of mine) that liver surgery was an option, I argued with the oncologist and she began to investigate the options. And thankfully she was a quick learner. Within a month I had liver surgery to remove about one third of my liver. She even determined that I was Exon 9. The doctor made Gleevec available to me but I chose to save my bullets for a visible target.
I was NED (No Evidence of Disease) for two years after that second surgery. My only problem was that I didn't listen to the post surgery instruction to avoid any lifting and have a couple of incisional hernias that make me look fat on one side. (Unbalanced?) Then last fall the quarterly scans found "something". I had a PET scan which found no hot spots so I was okay…. until three months later when the next CT scan found "something". It found three 2-cm sized tumors or lesions on my liver and a 2×3 cm tumor in my large intestine. My oncologist ordered another PET scan to confirm things and this time it lit up my life. I have "retired" thanks to long term disability insurance and I'm working hard to make memories with my family.
And so I turn the page to the next chapter and I join the GISTers who take the pills. I have been on 400 mg. Gleevec for six months now with mixed results. Some tumors have quit growing and some have not. I have moderate side effects most days but I still feel good enough to kiss my wife and kids and grandkids and ride my motorcycle. So life is good.
And I live on one day at a time, day after day, thankful that since '97 we have had so many new discoveries and developments. Thank you researchers and advocates!
I also thank God who has granted me these extra years, my wife who has and is walking through this valley with me, and the congregations I have served as their pastor who prayed for me.
Maybe I'll still be here in another five… if I don't fall off my motorcycle.
Blessings to you all,
Ron McClelland
Edmonton, Alberta Canada
rbmcclelland@shaw.ca
Look below the next photo for more updates in Ron's story!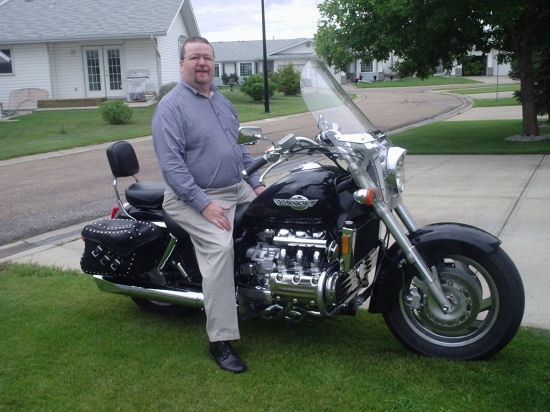 Update: April 2008:
My last CT scan (my 30th) showed that five of the six tumors/lesions were progressing, one of them significantly. So I am starting on 800 mgs next week. The journey continues. Oh, another update. My sixth grandchild is on the way. They live in Thailand and we are making plans to meet this one next January.
Update: August 2008:
Right now I have six tumors which are being held in check by 800 mg of Gleevec a day. I have the side effects and I hate them especially the constant puffy watery eyes. I often have days of "battle fatigue" and I fully expect that this cancer will kill me one day. (I'm positive about that for those who think I should be positive all the time.)
BUT since diagnosis I had another 9.5 years of work (ministry) before going on disability, eleven more fun packed years of marriage, gave away half of my four daughters in marriage, I now have five grandchildren and a sixth on the way. I finally bought the most awesome motorcycle in the world – a Honda Valkyrie shown in hte photo just above. (I had a Harley once but I upgraded.) I ride as much as I can in the six or seven months that don't have snow. Great therapy.
I've also eaten all kinds of food that isn't good for me because I felt like it and it tasted good. Unfortunately the Gleevec has taken my appetite away but I still have a habit of eating lots so I haven't lost weight. I schedule in things to laugh at every day.
Life has been good these last eleven years even though I haven't always felt good. I do what I can to keep living while I wait in the departure lounge for the final flight. And I think cancer stinks.
Oh, and my doctors expect me to die "about six years ago".

Update September 2011:
For my fifteenth anniversary (June 2011) I had progression ….again. And there are no more approved drugs.
On Wednesday of this week I had my 51st CT scan. It showed stability. Regorafinib is working. I start my third cycle tomorrow…reduced dosage.
Just wanted all you "newbies" to know that there can be a lot of life left after that first appointment. And it's not over till it's over. And we don't know when that will be.
Ron McClelland
Edmonton, Alberta Canada
husband, father of four daughters and grandfather to seven grandchildren.
follower of Jesus who leads me to and through unpleasant places at times.