GIST Support International - Mike Prozan: Why I Ride

Why I Ride
by Mike Prozan, Lunatic In Chief
of the Peter Thomas Memorial Ride
Why do I ride? To me, history seems to be the best place to start.  In chronological order, my bike riding history, my GIST history, and the Peter Thomas Memorial Ride History.  As you will see, they all merge.  I then discuss the significance of the challenge (or why I call myself the Lunatic In Chief) and then on to why I ride.
I  History
A. My Biking History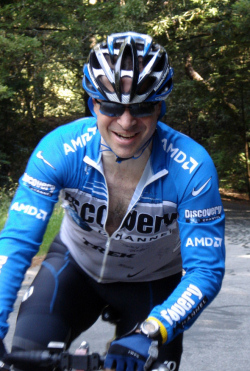 I had been a casual biker until I got the bug for an AIDS charity ride in 1999.  I trained and rode 565 miles from San Francisco to Los Angeles that year.  In fact, I over trained and gave up biking for a few years.  Until I got a postcard from the same group regarding a ride from Fairbanks to Anchorage Alaska and got the bug again.  I took my son Tyler with me.  We had a blast.  In fundraising, I'd also learned that I had a number of friends who were cyclists and we started a Sunday morning ride.  More experienced, I did not over train and continue to this day on my Sunday morning rides.
B. My GIST History
As I said, these all merge.  My GIST history starts with a bike ride with my Sunday riding group.  We were on our first long ride of the season.  I was tired at the end and took ride home from a friend.  I didn't think much of it.  Two days later, I went on a short morning ride with a friend.  I was noticeably slow.  I had a bad day.  Symptoms were appearing of what was to come but I did not recognize them for what they were.
I went to dinner with the family as my son was graduating from high school the next day.  Good thing I felt obligated.  Still feeling lousy, I gave Tyler the keys and asked him to drive.  Good thing again.  We walked in the restaurant and sat down.  I thought I would have a coke and not eat.  I was looking drowsy.  My wife nudged me thinking I was going to put my head down and rest.  I looked at her and told her I needed help.  I collapsed head down on the table.  They revived me and I started to vomit blood.  We had the whole drama, Fire Department and EMTs.  Good thing I hadn't stayed home where there would have been no one to help.  Good thing I wasn't driving where it could have happened in the car only minutes earlier.
At the hospital, the doctor told me among other things that I'd lost about 1/3 of my blood and that my biking may have saved my life as that and my comparatively youthful 42 years made be better able to withstand the shock of the blood loss.  The performed a test the next day and found that I had GIST and not the bleeding ulcer they expected. 
FYI, many GIST patients get diagnosed in acute circumstances.  Frequently, they find out they have GIST after passing out or after an emergency room visit.  It can be very asymptomatic.
I had a successful major surgery with the partial stomach resection which is de riguer for a GIST patient.  I got on the internet, did my research and, back then, found that there were two types of GIST patients:  those that were diagnosed in time and survived and those that didn't.  Happy to be in the former category, I went to my local oncologist, had a friend who was with one of the major cancer centers get an expert to do a review and went for regular scanning.
In July, 2005 everything looked great.  My local doctor talked about putting me on a one year scan instead of a six month scan. 
Wrong.  By December, it returned with a vengeance.  On December 29, 2005, I had a 20 cm tumor removed, along with my gall bladder.  The tumor was about twice as big as the first tumor.
I got on the internet again and found things had changed.  Now, treatments had matured and support groups were easier to find.  I officially affiliated with an expert.  I began Gleevec and a more frequent scan regimen.
C. PTMR History
On the GSI list serve, I read about what was then called the E2E, a 1000 mile ride in 10 days to find one cure for GIST being organized by Peter Thomas which basically went the length of England in the summer of 2006.  I wanted to participate but from my first surgery and that recovery cycle, knew there was no way I could be ready.
E2E went off but without Peter Thomas.  GIST overtook him and he passed away in the summer of 2006. 
Everything haunted me and I struggled with taking on the challenge.  Quite scared, in January, 2007, I contacted Peter's brother Wayne about a sequel.
II.  The Significance of the Challenge
Why am I scared?  Well, please realize that we will be riding roughly the same number of miles that the Tour De France riders do in the same number of days.  Climbing?  Well, a total of 48,000 feet in this route.  How much is that?  Enough to climb Mt. Everest.  Almost 1 and one half times.
And, as things turned out, I am going to be the only person attempting the entire ride.  So now you understand why I call myself the Lunatic In Chief.
III.  Why I Ride
 Well, it started to raise money for GIST research, and, for many of us, that remains the most important reason.  Along the way, I have found that organizing and training for the ride is very therapeutic in that it takes my mental cancer time away from worrying about when (if) Gleevec will stop working for me and onto something more positive.  I've also been very pleased to provide this platform for others whatever their reason for riding.  I've also found it to be inspirational as I get emails from GISTers who increase their own exercise as a result of seeing what we are trying.  One woman was able to substitute exercise for a blood pressure medication although she was unable to ride because of the effects of five years of a toxic drug on her system.  I'm also hoping that the extent of the challenge will help raise media awareness about this disease and those of us in the new era of cancer who live with it not as cured or uncured but chronic with the very real threat of return and possible death.  Awareness is one benefit I hope to achieve by doing something far above doing something more routine like a single century and something I would not have considered when I was healthy.  And, yes, in many ways, this simply a Forrest Gump moment because really, this is the only thing left for me to do.  And yes, I am crazy.
Why do I ride?
All of the above.

Mike Prozan