GIST Support International - Nora's Story

Nora's Story
My story begins in February 2001. I had just graduated from college in December and just got a part time job. I had been having this pain in my stomach for a little over a week. My mom suggested that I finally go to the doctor. It wasn't a severe pain, on a scale of 1-10 maybe a 5. So I went to my family doctor. She ordered a CT, then called us late that evening and suggested I get to the hospital. She said there was a mass on my liver and she was afraid of it bursting. So we were frantically getting me ready to go to the hospital. Even at this point the "C" word hadn't entered my mind, I'm not sure about my parents. So I was admitted to my local hospital and began having tests. After 4 days of still knowing nothing a doctor and 2 interns came in and told me they suspected cancer. I was alone when they told me; my parents hadn't gotten there yet. Funny, the 1st thought when he said cancer is "Oh god I'm going to lose my hair". Well, I was only 24 at the time.
My parents came and the doctor told them what they told me. I'll never forget the look on my dad's face or that moment after the doctors left the room and it was mom, dad, and me. They suggested I be transported to Ohio State James Cancer Hospital. So in an ambulance I went off to Columbus with mom and dad following in the car. We met with a surgeon, Dr. Michael Walker. He scheduled a biopsy. After I had the biopsy I was sent home to wait for the results. Dr. Walker called and talked to my mom and told her that I had a rare cancer called GIST, Gastrointestinal Stromal Tumor. So now what? We go back to Ohio State to meet with Dr. Manisha Shah. (Here's an ironic story. Before any of this happened, a few weeks before I was watching the Today show and they had a segment on about a new drug called Gleevec. Who knew a few weeks later I'd be on it!).
Dr. Shah and Dr. Walker scheduled a surgery to remove the tumors, but that plan changed after he opened me up. My mom thought I'd be in surgery for like 4 hours but he came out in 2. He said that he decided not to remove anything because of a new experimental drug called STI-571 and he thought that would be a better option. So he stapled me up and I was in the hospital a few more days, in a lot of pain and a stupid feeding tube that I never needed. He just put it in as a precaution. Now I have 2 bellybuttons. Ha-ha. I hated that thing. It did come in handy sometimes when I had CT's I didn't have to drink the horrid Barium. I put that tube to use. That was the ONLY good thing about that awful thing. After an office visit and some tears I convinced Dr. Walker to yank that thing out!

After I recovered from surgery, Dr. Shah (who is a great doctor) put me on 800mg of STI-571. Then the transfusions began. Seemed like every 2 weeks I was driving to Columbus to get blood. I had a lot of support, sometimes my dad went or my mom or even my best friend Jamie went with me, and I went by myself when I learned how to get to the hospital. 3 times I was hospitalized for very low blood counts. I remember the last time my hemoglobin was 4 and my white count was 0 with high fevers. I think 104 degrees was the highest. After that last hospital stay they decided to take me off Gleevec, and I had to take epogen to boost my white count because it wasn't coming up on it's own and that kicked me off the trial, and Gleevec wasn't working anyway.
Dr. Shah suggested that I talk to a Dr. George Demetri at Dana-Farber in Boston. They were beginning a new trial called Sutent. We flew to Boston. Me, my mom, my sister Dana, and our neighbor Joann (a breast cancer survivor). Our first time to Boston. We met with Dr. Demetri. He decided to start me on Sutent, which meant that I'd have to be in Boston A LOT. I was scared about going to Boston, I didn't know a soul there. So, before I went I decided to go online to see if I could meet some friends. I met a guy named Steve. He lived in Nashua, New Hampshire, about an hour away from Boston. We started talking. Emailing and talking on the phone everyday for about 2 months. Yep, I was in love. He wanted me to come out to visit him but my mom made him fly out to Ohio to meet me first. I picked him up at the airport. I was so nervous. It's about a 2 hour drive from the airport, we stopped to eat. Finally almost home he decided to hold my hand, and that was it. I knew he was it. September 10, 2002. After another month of talking I had to go to Boston to start the trial. So I moved in with Steve. A few weeks later he asked me to marry him. And as you guess I said yes! This was in October. We told everyone at Thanksgiving. So we started planning a wedding!
Our dates generally consisted of being at Dana-Farber, either waiting to see Dr. George or get more transfusions. We spent A LOT of time in the lobby at Dana-Farber. After MANY MANY transfusions later, they decided Sutent wasn't working either and I needed surgery again. So they brought in Dr. Bertagnolli. She was amazing. Very straight forward. To put it bluntly she scared the crap out of me. The only one who said, "If you don't have this surgery you will die." She told me this #1 because it was true, and #2 I was scared to have the surgery because of all the pain I remembered from the first surgery. But I did it. I had the surgery. She's an amazing woman and surgeon.
My surgery was February 03. The morning of my surgery there was almost 2 feet of snow on the ground. I came out of surgery just fine. Thank God for epidurals! I had little pain this time around and no tumors. She took out the main one on my stomach which was football size, and one in my pelvis about 2 fists size. She said that there were only rice size ones left. She also took ¾ of my stomach and part of my liver. I couldn't eat solid food for about a week. I still don't like Jell-O.

My last transfusion was during my surgery, I think 3 pints the night before -- since then NO transfusions!! I never have had good veins to begin with so I was ecstatic not to have to get stuck half a dozen times or more to find an IV. Funny- my dad and I have the health problems in the family and we're the ones with the bad veins. I have no clue how many transfusions I had between OSU and Dana-Farber, but I got to know the nurses really well. Ha-ha. Too many to remember. After my surgery I wasn't on anything for about 6 months, then my CT showed some growth so I went back on Gleevec. 100mg.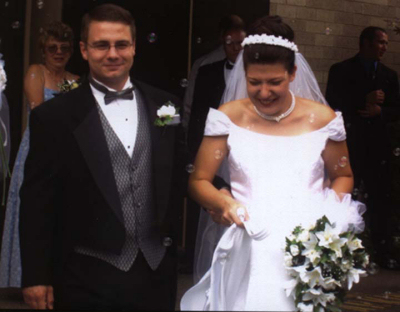 So, September 13, 2003 came. My wedding day! The happiest day of my life! It was the most fun I've ever had. (Except for my mom and most of my relatives asking, are you ok? Are you sure? And saying yes all the time!) Who knew by getting cancer I would also get a husband in the process! Our first year of marriage was rocky, to say the least, not to mention the last 3 years. But here we are! ,
In the 3 years since my surgery I've had slow growth all along, I went from 100mg, and now I'm back up to 800mg of Gleevec. And we're looking into new trials.
I was also angry at God and everyone wondering why I had to get cancer. I've since made peace with God. Yeah I still get angry, sometimes I still want to give up, but I think of all the people that are in my life right now and that keeps me going. I thank God for giving me these past 3 years. I thank all the doctors – Dr. Demetri, Dr. Michael Walker, Dr. Manisha Shah, Dr. Bertagnolli, and Dr. Suzanne George who all helped to give me these past 6 years. Plus, all the nurses at Ohio State and Dana-Farber. And I thank the miracle drug Gleevec, which has also gave me these years.
--- 2012 update ---

I wrote this story 6 years sgo! A lot has happened to us in those 6 years. Because of Steve's job we moved around A LOT. Since we got married I have lived in New Hampshire, Tennessee, back to Ohio for 6 months, then to Iowa, and then finally North Carolina. And finally I'm back home in Ohio. My cancer put a lot of strain in my marriage. We've been through a lot in the last 8 years. About 2 years ago now I became really sick, and almost died. By luck my wonderful mother-in-law was visiting us and was home with me at the time. I was supposed to go to work soon and I told her I was going to lay down for a while to rest before I had to leave. She tried to wake me up but couldn't. she tried CPR, called my husband, and he told her to call the ambulance. The next thing I remember is waking up not understanding why I was in the ER. I barely made it through the night. I remember the priest coming in to give me last rites before my parents got there. Steve called them and they jumped in the car and drove the 8 hours to get down to our house.
Now I'm living back at home with mom and dad. I've been able to hang out with my friends, and get back in touch with my very good friend Bonnie. I love being able to spend this time with my family and friends. Right now I'm not on any chemotherapy medciations. I have to use oxygen all the time, which can be annoying and embarrassing sometimes, but I still consider myself pretty lucky. I have an amazing family and the best friends in the world. And 2 dogs Perry and Taco, or as my mom calls them mutt and jeff. Perry is a lab and Taco is a chihauahua.
Quoting Dr. Walker, "If you had to get cancer, you got the right kind at the right time". Even though Gleevec hasn't shrunk any of my tumors, it has kept it very slow growing. It truly is a miracle drug. I made this statement in 2001, it's now 2012, and I'm still alive and kickin, 11 years later!


Sincerely,

GIST survivor and still fighting…
Nora Lynn (Webb) Winstead