GIST Support International - GIST Community News

2008 Team Sarcoma Initiative

Posted by Julie Royster (juliecontent) on Dec 31 2008
GIST Community News >>
The 2008 Team Sarcoma Initiative is an internationally coordinated set of events to raise awareness of sarcoma and raise funds to support sarcoma research, clinical trials, and patient and family services. The 2008 "core" Team Sarcoma Bike Tour will be held in Germany and Austria biking along the Danube River during July 12-19, 2008.  However, the Team Sarcoma Initiative goes way beyond this single bike ride:  local Team Sarcoma events will be held worldwide during the same week. In 2007 over 3,400 people participated internationally.
People are in the process of planning local Team Sarcoma events in various countries and states within the United States to be part of the 2008 Initiative. If you are interested in learning what's involved and forming one of the local Team Sarcomas, please contact this link  for help in planning a local event.
http://www.sarcomahelp.net/Bike%20Tours/ts_2008/local_team_sarcomas.htm
You can plan a Team Sarcoma in your neighborhood! Aim small or think big - it's entirely up to you. Plan a walk in the park, a bike ride, a sarcoma awareness lecture, a musical event, a dinner/dance, a silent auction, or any type of gathering to spread sarcoma awareness. Then tally the people in attendance and take a group photo.  Team Sarcoma's success is based on the determination and creativity of people just like you. The more events that are held during Sarcoma Awareness Week, the more impact we will have.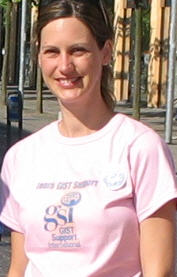 If you want to form a Team GIST for your own event, Lee Ann can provide you with a Team GIST logo for posters, banners, or T shirts.  Contact Lee Ann at leeann@gistsupport.org  You can see the logo in a photo o Dr. Anette Duensing from the 2006 Sarcoma Tour at te right.  She put hers onto a feminine pink shirt, but you can print it onto any color T shirt.
If you can't organize or participate in a local Team Sarcoma event, but want to help out, you can sponsor one or more participants in a Team Sarcoma event or just make a donation to help sponsor sarcoma research. To get a copy of the donation form, click here. http://www.sarcomahelp.net/Bike%20Tours/TS%202007/ts_2007_sponsor_form.pdf
Last changed: Dec 31 2008 at 2:29 PM
Back