GIST Support International - GIST Community News

2011 GIST Summit: Terrific!

Posted by Julie Royster (jroyster) on Oct 14 2011
GIST Community News >>
by Tony Doré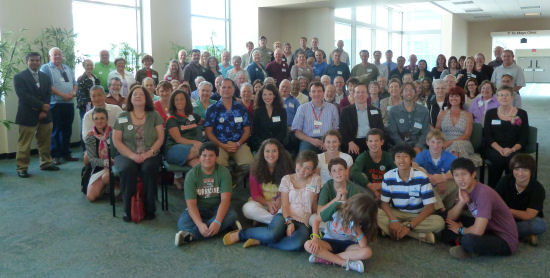 Diverse group, evolving summit
The GIST Summits have come a long way since the idea germinated at an informal gathering in a Houston apartment block, back in 2008. The 2011 summit, held at MD Anderson Cancer Center, attracted a large and diverse group of people from 4 countries and 16 US states. The 120 or so participants included patients, family and other helpers, doctors, nurses, pharmaceutical representatives, and featured speakers, not to overlook a small but enthusiastic band of volunteer kids scurrying around to keep things in order.
The summits have evolved yearly. Last year the organizing team experimented with recorded television interviews, mainly with patients, as a means of sharing experiences with the rest of the GIST community. This year's session introduced a variety of new formats, including parallel workshops on aspects of clinical care, and a coordinated multi-speaker session on integrative medicine. The good feedback from these sessions suggests that the organizers are still striking the right balance between innovation and getting the basics right.

Personalized medicine, clinical trials and nutrition
Dr. Jonathan Trent has been a mainstay of the summits throughout, and as has now become a tradition, he launched the morning session with "GIST 101", a primer on the occurrence, pathology and treatment of GIST. This presentation is especially valuable to those newly diagnosed and just encountering the disease, but also contains up-to-the-minute information that allows the rest of us to play "catch up."
Dr. Trent listens to Dr. Rubin's presentation: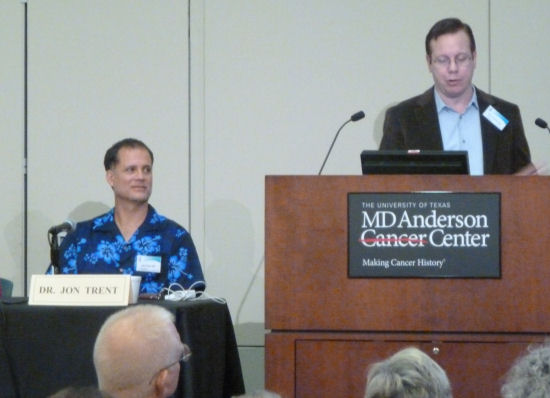 Dr. Brian Rubin, the summit's special guest speaker and director of Soft Tissue Pathology at the Cleveland Clinic, Ohio, then gave a very interesting and comprehensive talk on translational medicine and new therapies. His emphasis was on how the results of new research might be implemented, and targeted and combination therapies could be tailored to specific GIST types and mutations – or, to use the shorthand, "personalized medicine". His big message was clear; right now we have ways to hold many GIST types back and to send the tumours into quiescence. He sincerely believes it is within our reach to develop therapies to eliminate the tumours entirely, and that with the right investment and research we could achieve this goal within the decade.
Dr. Dejka Araujo's talk on Clinical Trials was in many ways a natural follow-on from Dr. Rubin's presentation, and was of course of great interest to those in the audience wondering whether they might qualify for such treatment. The talk discussed not only the procedure for clinical trials, but also how to find out what trials are currently happening, and how to determine whether you're qualified to participate.
Dr. Araujo talks to the group: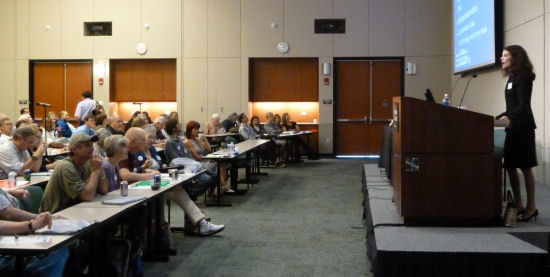 Another session highly appropriate to many present was Linda Pataki's talk on nutritional challenges. It was full of useful information for those who have had surgery to remove part of the digestive tract; what nutrients are absorbed in what part of the system, what the effect of losing these nutrients is, and how to supplement your diet appropriately.
Clinical care workshops
The workshops in the afternoon were held as three parallel sessions, covering psychiatric aspects of living with GIST from both the patient and caregiver perspective, and the management of side-effects from treatment. The workshops were run by three senior members of M D Anderson's clinical care staff, Mary Hughes, Kathie Rickman and Pat Neal. All three sessions were highly informative, with the lively and informal audience participation that is characteristic of these summits.
Nurse Pat Neal leads side-effect discussion: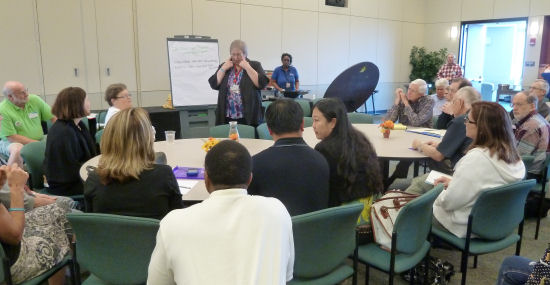 Communal meditation!
Perhaps the most radical session of the day was the group presentation on Integrative Medicine – in other words, therapies complementary to conventional medicine for dealing with long term treatment issues, psychiatric issues, pain and stress. The session provided a nice counterpoint to the earlier clinical talks , and was much appreciated by the audience. Three members of M D Anderson's staff examined different aspects of integrative medicine. Dr. Richard Lee gave a very balanced overview of integrative therapies, noting the pitfalls as well as the benefits. This was followed by a session on acupuncture by Dr Kay Garcia and finally a discourse on meditation by Dr. Sat-Siri Sumler, with audience participation in a mantric session as part of the talk!
The day's proceedings ended with presentations of awards by the GSI Board, showing their appreciation of two of the key movers – Jon Trent for his outstanding dedication to the patient community, and Pat Gabler – the Sarcoma department administrator at MDA– for her outstanding support of these Summits.
A lively buzz
These summits are, of course, not just about the talks, important though these are. They're also a great chance to network – to meet others in the same situation, to share experiences and to feel a sense of kinship and mutual support. It was very good to see clinical staff making great efforts to present technically difficult concepts to a lay audience in understandable terms, yet without talking down to them. All day there was lively discourse around the posters, which included displays from four pharmaceutical companies (Novartis, Pfizer, Deciphera and AROG) and the same buzz was there at lunch and in the dinner that evening.
Young attendees make GSI pins available.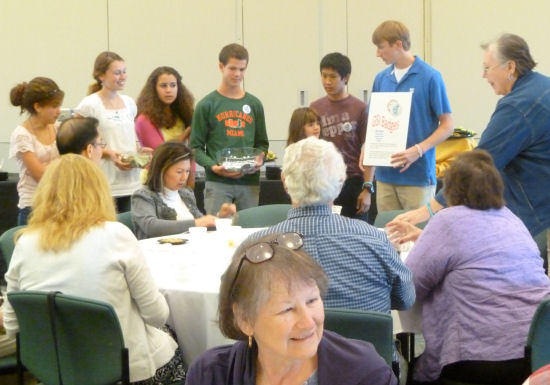 Finally, I hope you'll allow this reporter the liberty of some personal reflections. My own role as the husband of Barbara, one of the organizers, was basically logistical. I helped to keep things moving along. But I didn't find task this mundane at all – in fact I derived huge satisfaction from it. Most of all, it was all about talking to people who were just grateful to find each other. Two particular memories will remain; the couple from the other side of the country whose community had clubbed together to sponsor their trip, bringing a whole new meaning to the term "socialized medicine": and the participant who took me aside to thank me for "sharing my wife with us for a little while". I found it immensely satisfying, and life-affirming. Well done GSI!
If you weren't at the summit but this article has whetted your appetite, or if you were there but want to replay any of the main talks, the summit was recorded on video and can be found on this website at this link.
Tony Doré
Barbara Doré, Sharon Trent, and Dr. Jon Trent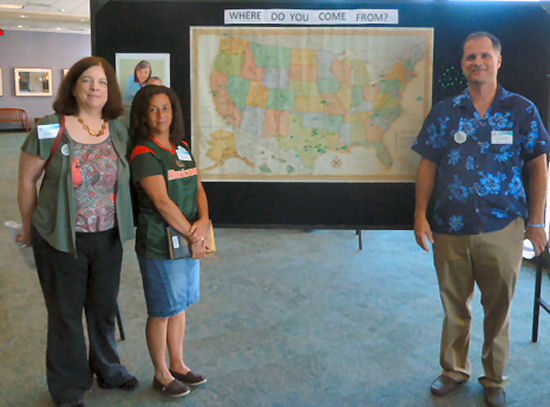 Panelists answer attendees questions.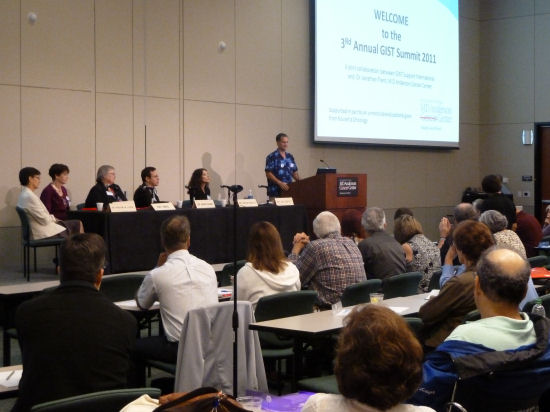 Last changed: Oct 17 2011 at 3:44 PM
Back