GIST Support International - GIST In the News

Attending a GIST CME Event

Posted by Julie Royster (jroyster) on May 13 2009
GIST In the News >>
Reactions to Attending a GIST CME Event
by Nancy Berezin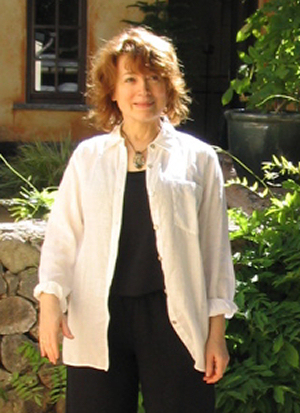 These are my thoughts after attending "Evolving Molecular Medicine in GIST Management: a 2009 Update" (held January 14, 2009).  Genny Fox has provided an excellent summary of the medical news from this meeting, so I am just going to add a few personal notes.  Webcasts of the presentations are available at THIS LINK.
To recap the event: on the evening of January 14, Genny, Vicki Zuber, their husbands, and I attended a satellite meeting titled "Evolving Molecular Medicine in GIST Management: a 2009 Update," which took place at the glitzy San Francisco Marriott Hotel during the 2009 Gastrointestinal Cancers Symposium. The event was chaired by Dr. George Demetri of Dana-Farber and included slide presentations by three top GIST experts—Dr. Jonathan Fletcher (Brigham and Women's Hospital, Boston), Dr. John Vetto (Oregon Health & Science University—Knight Cancer Institute, Portland), and Dr. Robert Benjamin (MD Anderson Cancer Center, Houston).
The symposium was designed for medical oncologists and oncology team members; however, our little group was warmly welcomed. Since this was an uncrowded, evening satellite meeting rather than one of the official sessions, there was no awkwardness about our lack of conference badges, and the lavish buffet provided by Novartis was open to all.  (Warning: If you ever attend one of these events in your area, do not eat beforehand.)
One of the best parts of the experience for me was having the opportunity to meet my fellow Bay Area GISTers and learn something of their personal histories. Vicki observed that we all have different mutational status—an Exon 11, an Exon 9, and a wild type—so we really were representative of the broad spectrum of GIST!
Another positive aspect of the evening was discovering how well informed we are about our disease, thanks to Julie, Marina, and the other dedicated folk who continuously update the GSI web site and share the latest journal abstracts with us by email. While the experts did present cutting-edge information (see Genny's report), they also spent considerable time reviewing older findings that were familiar to us but news to many of the oncologists in the audience.
All continuing medical education (CME) programs have a pre-test (which gives the sponsors an idea of how much the audience knew about the subject before the presentation) and a post-test (which gives them a rough idea of how much information was absorbed). In the old days, these were paper-and-pencil tests, but today's spectators receive hand-held electronic devices on which to punch in their answers. Based on the percentage of correct responses to the pre-test, many of the oncologists did not know (for example) the expected differences in treatment outcome with imatinib vs sunitinib in patients with Exon 11 vs Exon 9 KIT mutations. Now, these were general oncologists, not GIST experts, so some lack of familiarity is understandable. But the difference in kinase inhibitor response is a basic aspect of dealing with GIST, and if they had gone to the GSI web site, they would have known the correct answer! (Note: the audience did somewhat better on the post-test, but they still didn't hit the ball out of the park.)
The continuing "knowledge gap" between general oncologists and GIST specialists underscores the importance of consulting a real expert whenever a major treatment decision is called for—even if it means driving many hours or flying from one city to another. I hope I live to see the day when it no longer is necessary for any of us to work with multiple doctors and institutions, but based on this experience, that day has not yet arrived. Fortunately, most local oncologists recognize this fact and are willing to work in tandem with a GIST specialist. If yours refuses to do this, find another doctor ASAP!
One final note: in his introductory remarks, Dr. Demetri noted that the close collaboration between GIST patients and their physicians was one of two main factors contributing to rapid progress in the field. (The other was the unusually close cooperation between clinical oncologists and bench scientists.)
Having worked as a medical reporter during the early years of the HIV/AIDS epidemic, I saw firsthand the difference that engaged patients can make in the pace of medical research. So let's keep on educating ourselves and one another about GIST—and buying cookbooks and riding bikes and participating in Project FLAG. And if you have an opportunity to attend a similar meeting in your area, get to know some of your fellow patients, and talk to visiting experts, then by all means do it! By putting a human face on the disease, we are encouraging the medical community to go that extra mile toward finding a cure.
Regards to all,
Nancy 

Last changed: May 13 2009 at 2:46 PM
Back