GIST Support International - GIST Community News

Barbara and Sherri Visit Novartis

Posted by Julie Royster (juliecontent) on Feb 08 2009
GIST Community News >>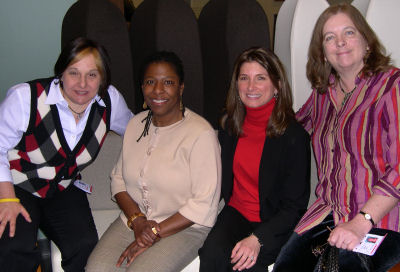 Novartis had their "kick off"event on January 30, 2009 to recognize the achievement of the oncology department and to lay the foundation for future success in the new year.  Their goal this coming year is "Winning for the Patient".  One of their big FDA approvals was for adjuvant Gleevec.  The half day meeting was for employees ranging from finance to clinical research,  medical directors to legal and adminstration.  Presentations were made through out  the morning for the employees and part of the program was the "Patient Perspective".  Barbara Dore' and Sherri Janousky were invited to share their story as they had been participants in  various adjuvant Gleevec trials.   
The patient advocate department coordinated the segment and Barbara and Sherri were asked to take the stage and tell their stories.  This was reported to be the "highlight" of the meeting.  When employees get to actually see the benefit from their work in concrete human terms in person, it is a rewarding experience and makes the day to day emails worth while.
Barbara and Sherri spoke about their experiences being diagnosed with GIST, entering a clinical trial and taking Gleevec as adjuvant therapy.  The moderator then asked some questions about the value of patient advocacy, managing side effects, and how this diagnosis had affected their lives.  The session was opened up to the audience who asked some questions concerning overall impact of having GIST, who had helped them come to their decision to enter the trials and take Gleevec, concerns about stopping Gleevec and how Gleevec has improved their lives.  They were very interested to discover the great effect that being a member of a patient advocate group - in this case of GSI - made upon the treatment decisions made by them as patients.  Overall it was a very emotional and moving experience for all - both for the audience and the speakers.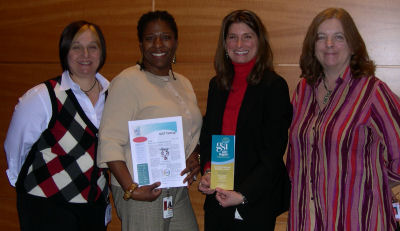 Shown in the photos above are (left to right):
Sherri Janousky, Leslie Fields, Ilana Monteleone, and Barbara Dore'
Last changed: Feb 08 2009 at 1:56 PM
Back