GIST Support International - GIST Community News

Bike 4 Mike Benefits MSKCC

Posted by Julie Royster (juliecontent) on May 03 2008
GIST Community News >>
In 2007 the scouts and families of Troop Eight, plus other friends, cycled up to fifty miles on the  Jersey shore with Mike Prozan and raised over $12,000 for a GIST research fund at MSKCC in Mike's honor.  This year -- May 3, 2008 -- the Scout Troop and Mike are repeating the event!  Funds are being solicited for the "Mike Prozan Fund" at Memorial Sloan-Kettering Cancer Center.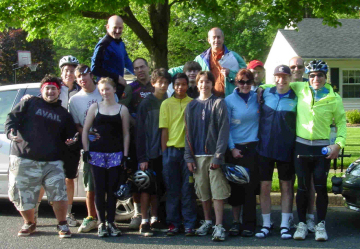 Donors can make out checks to MSKCC, with "Mike Prozan Fund" on the memo line, and send them to Mike Prozan at 387 Upper Mountain Avenue, Montclair, New Jersey 07043.
You can also donate directly online at
   https://www.mskcc.org/mskcc/html/60052.cfm?ContentFor=Special 
When filling out the online form, please check "In honor of" and type in "Mike Prozan". If you want to sponsor a paticular rider, write in his or her name on the "Company" line. DO NOT specify a specific fund--leave that blank. (The form's a bit awkward, but it's how we get 100% to the fund.) 
Contributions are 100% tax deductible and MSKCC will send each donor a written receipt.
     
Last changed: May 03 2008 at 12:47 PM
Back