GIST Support International - GIST In the News

Free GIST Wristbands (bracelets)

Posted by Julie Royster (juliecontent) on Oct 03 2011
GIST In the News >>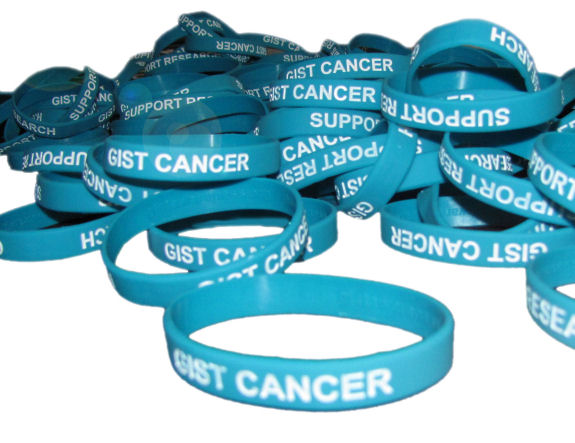 Barbara Livermore of the GIST Cancer Awareness Foundation (GCAF) kindly donated some wristbands embossed with the GSI and GCAF website addresses for attendees at the 2011 GIST Summit, and all that we had there were gratefully taken by those who participated.
Barbara has offered to mail 2 wristbands to anyone who wants them for no charge. Please send her
your name and address (or an address label) and
four 44-cent postage stamps.
Barbara will supply an envelope. If you need more than two wristbands you should write Barbara to inquire about obtaining more.
Her address is: Barbara Livermore, PO Box 1719, Julian, California 92036
Barbara says:
"I would be happy to send GIST Cancer Awareness Foundation / GSI bracelets to anyone who wants one. Wear them boldly to promote awareness and the need for research. Our ultimate goal is a cure for GIST! GIST Cancer Awareness Foundation is excited to be partnering with GSI in this effort. Together we can really make a difference!"
GCAF raises money for GIST research and recently awarded its first $50,000 grant for research into wildtype and pediatric GIST. Read a story on the GCAF website.
Finally, GCAF let us know that late in 2011 they plan to make a $1500 donation to GSI as well, for which we are extremely grateful!
We are truly in a remarkable community of kindly people!
Last changed: Jan 05 2012 at 8:45 AM
Back