GIST Support International - GIST Community News

GSI Reps Attend ASCO

Posted by Julie Royster (juliecontent) on Jun 27 2007
GIST Community News >>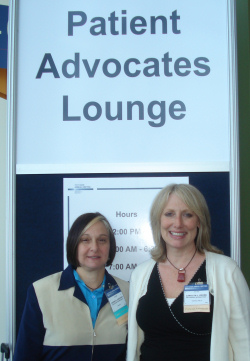 Sherri Janousky and Carolyn Grobe are attending the American Society for Clinical Oncology meeting June 1-5, 2007 in Chicago.  Both residents of the greater Chicago area, they are braving long train rides, sore feet, and heavy loads of handouts to get the GIST treatment news and research being presented at the huge meeting.  Pictured here on Day 1, Sherri (left) and Carolyn (right) are clearly equal to the assignment.  Not visible in the photo are the wheeled carts they are using to collect materials without developing back injuries. 
As the meeting progresses, Carolyn and Sherri will be summarizing their experiences for our listserv members.  The abstracts of papers being presented each day will be available at the ASCO website's Virtual Meeting page on the day of presentation.  Full public access to the slides and webcasts of the virtual meeting will not occur until September 1.  However, ASCO's People Living With Cancer site says "Beginning June 4, you can access Cancer Advances: News from the ASCO Annual Meeting, a publication summarizing research presented at the meeting, at www.plwc.org/canceradvances. You can also access full coverage of the 2007 ASCO Annual Meeting and past Annual Meetings, searchable by topic and year."
GIST Support International is grateful to our volunteers, Sherri and Carolyn, for the significant time and effort they are contributing by attending ASCO on our behalf.
Last changed: Jun 27 2007 at 10:19 AM
Back