GIST Support International - GIST Community News

St. Louis GIST Foundation Grows

Posted by Julie Royster (juliecontent) on Jul 08 2009
GIST Community News >>
In the fall of 2007 Ally Klein and Katie Campbell were living and dealing with GIST in St. Louis. We met via the GIST internet support web sites and decided to meet in-person for lunch. We enjoyed our meeting so much we decided to meet for lunch every month. After a few months of lunching, we thought about expanding our little support group. We were successful in developing a great working relationship with a wonderful group at Siteman Cancer Center.
Marilee Kuhrik, Ally Klein, JoAnn O'Neill, Katie Campbell,Nancy Kuhrik, Teresa Deshields
Our goal in early 2008 was to find other GIST patients in the midwest, offer support through a meeting or seminar format where we could learn from some knowledgeable speakers and share our disease journey.
The first GIST Gathering was sponsored by Siteman Cancer Center in May, 2008. We had a great working committee assembled through the Patient Education Department. They were very supportive even though there was a lot of scepticism that our obscure disease could draw patients to an all-day seminar in St. Louis. Siteman listed our Saturday seminar in their weekly newspaper ad once. We distributed flyers to all the patient education departments and oncologists offices in area hospitals. Announcements were made on the GIST support web sites. Siteman Cancer Center registered participants through their 800-line.
There were 50 attendees at our first seminar. About half were patients and the balance attending were family members/care givers. The program included an oncologist and nutritionist in the morning. A great lunch was provided by a foundation grant. After lunch, we separated into patient and care giver groups for discussion with a psychologist. It was a very successful and rewarding day for everyone.
The second GIST Gathering convened in November, 2009. Our planning committee secured a great surgeon as a keynote speaker to discuss medical treatments, clinical studies and future drugs related to a GIST diagnosis. Then a panel of experts including a physician, nurse practitioner and a pharmacist fielded disease management questions. There were excellent questions and great discussion. After another delicious lunch, we spent informal time networking and getting to know each other.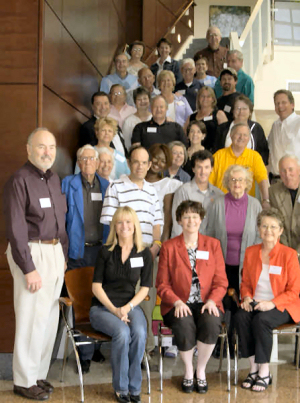 The most recent GIST Gathering in April, 2009 again supported about 50 attendees (pictured at the right). We had an excellent presentation by a surgeon about small-incision GIST surgery. Next, we heard from an employment attorney, Medicare specialist and insurance specialist in a panel format. Their topics covered cancer in the workplace and how to pay for treatments which is critical to our survival. After another delicious lunch, author and Co-Chair of the Board of GIST Support International, Marina Symcox, delivered a riveting story of her GIST journey and inspired everyone with her survival of 12 years with GIST.
Our group of three formed the GIST Foundation of St. Louis and received our 501(c) (3) designation. Our goal is to expand our program and apply for grants to pay for support efforts. We are developing a web site so other GIST patients can find us. Our partnership with Siteman Cancer center has been critical to our initial success. We have a great committee to work with. They have provided marketing support, a great venue, AV services, speaker resources, meeting supplies and meeting support. We have all benefitted from a very successful patient education program in a disease group with an unmet need for support. Our partnership has been described in a national magazine as a model for successful patient education. It will continue as we plan another GIST Gathering slated for October 24, 2009.
Story by Ally Klein
Look for more information on website www.gistl.org
Last changed: Feb 16 2010 at 11:57 AM
Back