Folleto de GIST en espanol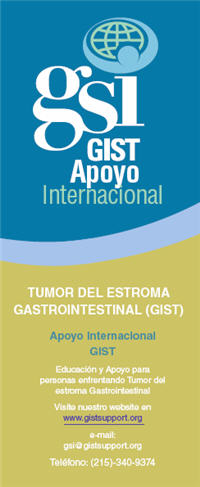 Presione aquí para ver el folleto y leer o imprimir. Es un documento Adobe pdf para leer o imprimir usando el programa gratis Adobe Reader.
Medicos y clinicas estan bienvenidos a imprimir copias para sus pacientes.
Si no tiene Adobe Reader puede obtenerlo gratis usando este link:
http://www.adobe.com/products/acrobat/readste1_allversions.html
English translation of this page:
CLICK HERE to download the brochure to read online or to print. It is an Adobe pdf document to read or to print using the free Adobe Reader program.
Physicians and clinics are welcome to print multiple copies for patients.
If you do not have Adobe Reader you can download it for free at this link: http://www.adobe.com/products/acrobat/readstep2_allversions.html