Gastrointestinal Stromal Tumor: Understanding Your
GIST Pathology Report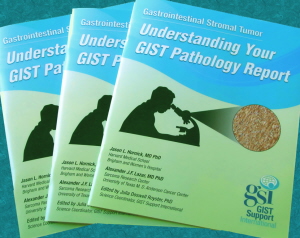 GIST Support International has developed a detailed booklet about GIST pathology results. This 40-page illustrated booklet will help physicians explain GIST to newly diagnosed patients and will enable patients to discuss their GIST prognosis and treatment plans with their doctors.
The booklet is co-authored by two expert sarcoma pathologists, Dr. Jason Hornick of Brigham and Women's Hospital and Dr. Alex Lazar of MD Anderson Cancer Center. GSI's science coordinator, Julia D. Royster PhD, served as editor to make sure patients' common questions were addressed in clear language.
PDF version
To open a pdf of this booklet click here.
Single Printed Copy
To receive a single copy of the printed booklet by mail within the USA, send your name and address and the postage ($1.39 in stamps) to GIST Support International, 12 Bomaca Drive, Doylestown, PA 18901, USA. To request a booklet from outside the USA, send an international postage coupon for the required postage to the above address. The postage will depend on the destination country and the weight (4 ounces per copy).
Multiple Copies for Medical Clinics
Physicians and clinics may request multiple copies for their patients at no charge by emailing gsi@gistsupport.org and we will send them by economical media mail.