GIST Support International - News from Second NIH Clinic

News from Second NIH Clinic for Pediatric & Wildtype GIST
The National Institutes of Health hosted the Second Pediatric and wildtype Gist Clinic on January 22-23, 2009.  Su Young Kim, MD of the NIH Pediatric Oncology unit deserves accolades for his outstanding work with planning and coordinating the event.
The first Pediatric GIST clinic held last June was established to gather data pertaining to Pediatric GIST in an effort to facilitate research and the development of innovative new treatments. It brought together world renowned GIST specialists with children and young adult pediatric GIST patients for the first time.  Here is a photo of many of the experts, plus patient group representatives.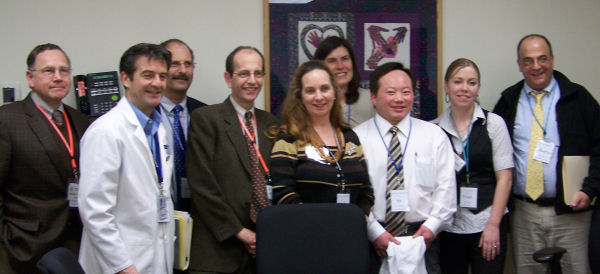 Changes in Second Clinic
The second Clinic in January incorporated the participation of adults with wild type gist. This expansion was made because older wildtype GIST patients resemble Pediatric GIST patients, with both groups lacking mutations in either the KIT or PDGFRA genes. This time the Clinic included twelve patients, five of whom were pediatric.  The patient participants and their families travelled from all over the USA as well as Canada.  The patients underwent a thorough history and physical examination. Information was obtained from each person so that it may be added to the database, including clinical history, response to prior treatments, histopathologic results, radiographic assessments and genetic/molecular analyses.
Three-dimensional videography was performed in order to collect information about the spatial relationships of their facial compositions in the hope of pointing researchers toward previously unidentified gene specific phenotype commonalities.  The services of pain management specialists, dieticians, dermatologists and psychosocial experts were also made available.  The GIST specialists collaborated in a round-table forum to discuss each patient's case, followed by an opportunity for the patient and family members to ask questions to the panel of physicians. 
Finally, the consortium of experts met to discuss some of the findings in general terms, and to define ongoing goals.  Phyllis Gay (Pediatric Coordinator, GIST Support International) and Becky Bensenhaver (Science Committee Member, GIST Support International) were able to attend this organizational and planning meeting as representatives of the GSI Listserv Group.
A major goal of the Pediatric and wildtype Clinic is to identify the molecular mechanisms that underlie Pediatric and wildtype GIST.  Some patients with Pediatric GIST also have paragangliomas, both of which may or may not be passed on to their children (Carney-Stratakis Syndrome).  Examination of the DNA of Carney-Stratakis patients has shown mutations in genes that code for subunits of the succinate dehydrogenase (SDH) gene.  Participants in the Clinic were offered the option of having a genetic test to determine if they have a mutation in the SDH gene in order to develop the knowledge base in this area.
Trial Planning Underway for IGF-1R Inhibitor
Another area of interest pertains to the recent discovery that IGF-1R is overexpressed in wildtype and Pediatric GISTs.  It is suspected that abnormal regulation of IGF-1R may be driving the growth of these GISTs which lack c-KIT and PDGFRA activating mutations.  The NIH is one of many sites that will launch a national clinical trial utilizing an IGF-1R monoclonal antibody as a therapeutic regimen in the treatment of Pediatric and wildtype GIST.  During the Welcome Session at the Children's Inn, Dr. Katherine Janeway, MD, Children's Hospital Boston, Dana-Farber Cancer Institute, presented a summary of the upcoming Phase II trial. The anticipated launch date is expected to be within the next 6 months. It will consist of two arms, a Pediatric group (those under 18 years of age when diagnosed) and an Adult group.  Participants would receive an IV monoclonal antibody at a frequency of once every three weeks.  Therapeutic effects would be monitored with CT, MRI or PET scans after start.  Administration of the antibody would continue until progression or interference from side effects of the drug. Criteria for admission into the trial include, but are not limited to, having advanced unresectable GIST (unremoved GIST tumors present) and no prior IGF-1R therapy. Adult wildtype trial participants must have previously used imatinib. A video link to Dr. Janeway's presentation will soon be available through the NIH website. News of its release will be posted on the GIST Support International list.  The photo below shows Dr. Janeway about to begin her talk.

Following the presentation by Dr. Janeway,  patients and family members were able to socialize and have dinner together at the Children's Inn. It was a pleasure for everyone to meet and support each other.
Future Clinics Need Patient Participation
The NIH Pediatric and wildtype GIST clinic encourages everyone with pediatric or wildtype GIST to contact the NIH and register for subsequent clinics.  The next clinic is scheduled for June 17-19, 2009. You may visit their website at http://www.pediatricgist.cancer.gov/.  Dr. Kim, Pediatric GIST Clinic Coordinator may be reached at ncipediatricgist@nih.mail.gov. By attending these clinics, patients will help advance basic science and clinical research for GIST.  Your information and medical history will add to a valuable database that acts as a foundation for continued advances in Pediatric GIST.
Becky Bensenhaver, PT
Science Committee member, GIST Support International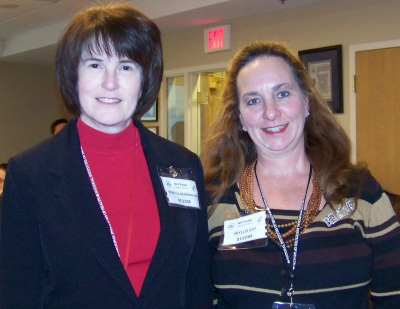 Becky Bensenhaver and Phyllis Gay, representatives from GIST Support International