GIST Support International - News from the 10th NIH Clinic

News from the 10th Pediatric and Wildtype GIST Clinic at NIH
The 10th Pediatric and Wildtype GIST Clinic was held at the National Institute of Health in Bethesda, Maryland on June 26-28, 2013. The Clinic is an annual event coordinated by Lee Helman, MD (scientific director for clinical research at the National Cancer Institute), with assistance from Sosopatros Boikos, MD (Medical Oncology Fellow, National Cancer Institute).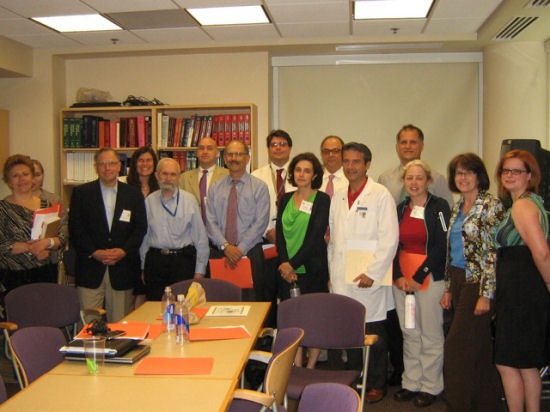 Gastrointestinal Stromal tumors are the most common gastrointestinal sarcoma in adults with about 5000 new cases diagnosed a year. GIST usually affects patients between about 50 and 70 years of age. These patients typically have an abnormality in either the KIT or the PDGFRA gene. With the introduction of tyrosine kinase inhibition (TKI) therapy such as imatinib, sunitinib, regorafenib, etc., the outcome has improved from year to year.
However, approximately 10 - 15% of adult GIST patients do not possess either a KIT or PRDGRA gene abnormality. These patients are referred to as having Wildtype GIST as reference to the fact that upon analysis their KIT and PDGFRA genes look like what would be expected to be found in the general population. Pediatric GIST patients (those diagnosed at less than 20 year of age) are also Wildtype for KIT or PDGFRA mutations.
So what do we now know about Pediatric and Wildtype GIST?
If you go to the literature the incidence of Pediatric GIST is 0.06 per million. The question is, once you identify a rare cancer, how do you study it? Most of the advances in rare pediatric cancers have occurred as a result of the cooperation of many institutions working together, usually funded by the National Cancer Institute. This has allowed for the creation of treatment plans for children with specific diseases enrolled in a nationwide registry. There have been several obstacles to this approach.
The first is that pediatric patients rarely participate in clinical trials, making it difficult to collect data. Even in a registry that is nationwide involving all treating institutions, patients frequently do not have all of their treatments at one institution, resulting in omission of cases from the database. If it is primarily a surgical disease (such as melanoma or thyroid cancers) the patient may not be seen by an oncologist and thus would not be reported. Another possibility is that patients might be treated at a more advanced age by an adult oncologist and thus may never make it to a pediatric center to be documented. Perhaps for these reasons the registration rates for rare cancers are much lower than expected.

A second way to study a rare disease is using the pre-clinical model. This method of study utilizes cell lines grown from tumor cells that have been taken from a patient and grown in a mouse, or something has actually been done to a mouse to make them develop that specific tumor. Some tumors, including Wildtype GIST, are not easily grown into a mature cell line. Efforts by the dedicated Pediatric GIST clinical investigators toward developing cell lines are ongoing.
A third model has been primarily utilized for the study of Pediatric and Wildtype GIST. In 2006 Dr. Alberto Pappo (St. Judes Children's Hospital) and Dr. Lee Helman (National Institute of Health) had a conversation pondering the underlying cause of Pediatric GIST. What developed was Dr. Helman's idea to develop the NIH-based Clinic. Through collaboration with Dr. Su Young Kim the Pediatric GIST Clinic and the Consortium for the Pediatric and Wildtype GIST Research (CPGR) were formed. In 2008, the Clinic began bringing together individuals who were interested in studying the disease, including oncologists, surgeons, scientists, etc. The purpose of this was to bring 10 to 12 patients every session for evaluation and review their medical records with the goal being to try gain an understanding of what is happening with them, why they are developing GIST, why they are different from adult GIST, and to develop treatment.
What We Know Now
This has what has been learned. Most Pediatric GIST patients are females with the primary tumor location in the stomach. The tumors are frequently multi-focal, meaning that they arise in many locations at the same time instead of appearing in the stomach only at the time of initial diagnosis. Pediatric GIST patients do not have KIT or PDGFRA mutations. They rarely respond to imatinib (traditional first line of therapy) or even sunitinib, the second line therapy drug administered. Usually these patients have significantly longer survival than those that are diagnosed at an older age. Despite the fact that these patients do not have KIT mutations, KIT protein is expressed. Pediatric population patients have comparatively very few chromosome gains or losses vs. the adult GIST population. Their tumors lack an enzyme called Succinate Dehydrogenase, allowing an abnormal accumulation of a substance called Succinate within the cells. Succinate normally blocks an enzyme that degrades Hypoxia-inducible factor (HIF). An increase in circulating HIF supports new blood vessel formation for the tumors. Additionally, the presence of a surplus of Succinate interferes with the normal methyl transfer process involved in the transcription of tumor suppressor genes, resulting in a dual hit.
Analysis of the 115 clinic patient samples performed to date reveals that Pediatric and Wildtype GIST Clinic patients fall into three categories.
1. The first group classification stains SDH-positive on immunohistochemistry (SDH IHC+). Tumor samples of the patients in this group present with a mixed cell histology, meaning that there is a lot of variation in the look of the cells of each patient. The primary tumors have been either in the stomach, the duodenum, or the intestine. These patients tend to be diagnosed at age 40 or above. Normal presentation is the development of GIST tumors without paragangliomas or pulmonary chondromas.
2. The second group classification stains SDH-negative on immunohistochemistry (SDH IHC-) without an identified SDH gene mutation, deletion, or duplication seen. These patients are usually female and all have had stomach primary tumors. Some have paragangliomas and some have paragangliomas in addition to pulmonary chondromas (ie dyads and triads, respectively). These patients are the youngest group, on average, with a median age at diagnosis of 14.
3. The third group classification also stains SDH-negative on immunohistochemistry (SDH IHC-) but by contrast they have an identified SDH gene defect. These patients can also present with paragangliomas and chondromas. They are typically somewhat older at diagnosis than those in the previous group, with a median age of 25.
Patients with Carney Stratakis Dyad stain SDH IHC- with an identifiable SDH gene mutation, deletion, or duplication in subunit a,b,c or d. Dyad patients are at risk for development GIST tumors and/or paragangliomas. There appears to be equal male:female predominance.
Carney's triad patients tumors stain also stain SDH IHC- however do not present with an as yet identified SDH mutation, deletion, or duplication in subunit a,b,c, or d. Triad patients are at risk for development for all three types of tumors (GISTs, paragangliomas, and pulmonary chondromas). 90% of these patients are female.
Clinical Trials for Wildtype GIST
A Phase II clinical trial for SDH-deficient GIST using an oral IGF-1R inhibitor called linsitinib is underway. More information on this trial can be viewed here:
A Phase 2 Study of OSI-906 (linsitinib) in Pediatric and Adult Patients With Wild Type Gastrointestinal Stromal Tumors (NCT 01560260)
The NIH plans to begin open enrollment for a Phase II clinical trial using Vandetanib very shortly. Vandetanib is an oral kinase inhibitor of a number of cell receptors, mainly the vascular endothelial growth factor receptor (VEGFR), the epidermal growth factor receptor (EGFR), and the RET-tyrosine kinase.