GIST Support International - News from the 3rd NIH Clinic

News from the 3rd NIH Pediatric & Wildtype GIST Clinic
The June 2009 clinic patients were adults, some of whom had developed GIST before age 18, and some later in life.  Two patients provide their perspectives below.
Jeni Bullard: My Trip to the NIH Clinic
June 19: It is Day Two for me and I have met so many wonderful people!
Yesterday was filled with flights and paperwork. Lots of signing and sitting!! Then meeting and greeting. We were part of a webcast, which was exciting. Today I went to all of my clinic appointments. The meeting with the NIH team was great—all of the doctors participating are kind and grateful for our participation.
The Pediatric clinic was our meeting point every day. I am still not sure where I fit in. I hope this trip will tell me as the doctors have yet to figure out what category I fit in. Adult? Wildtype? or Pediatric? Dr. Kim is testing to find out at the clinic. So the answers to my genetic or mutation questions are in the works. I will be having my tumor blocks tested and the information I am looking for will be shared with me when it becomes available.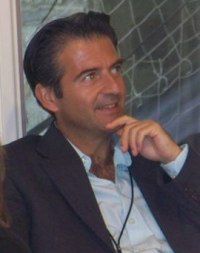 One of the highlights was participating in the audience for the webcast given by Dr. Stratakis, pictured at the right.  
You can see the webcast at this link: http://videocast.nih.gov/summary.asp?live=7742
The subject is "Genetic Syndromes Associated with KIT or PDFGRA Non-Mutant Pediatric GISTs".  I really recommend you look up this fascinating talk, in which he explains everything so well.
I have learned so much in so little time, I cannot wait to digest and look over my chicken scratches!
Tonight some old friends from the GSI list (the Wild Ladies!), and some new friends I just met, are having dinner on the town. So more socializing is to come!
For me the clinic was largely about meeting others, who share "my story,"  to join forces in forwarding research. To that I say
"Mission accomplished!"
Vicki Zuber: NIH Targets Wildtype GIST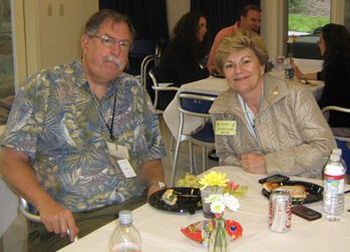 Suppose you were told that you were part of a medical study group where 65% of the diagnosed GIST patients had a bachelor's degree or higher. What would you think? One member of the study group concluded, "If you don't want to get GIST, don't be smart."
This little factoid, along with several others, was one of the many helpful and interesting pieces of information gained by a group of Wildtype GISTers who participated in an NIH study on Wildtype GIST. All of us spent three busy days in Building 10 at the National Institutes of Health in Bethesda, Maryland after the opening night dinner at the "Children's Inn".  We were part of the third recent NIH study on Pediatric and Wildtype GIST. All of us were adults. The "kids" had been studied in the first two sessions.   At right is a photo of me with my husband Leo.
The time at NIH did two things, (a) provided researchers from across the nation with in-depth information about our individual cases and (b) provided all of us with a thorough update on current directions that treatments and research seem to be taking. It was a very worthwhile experience for all of us.
NIH had a complete history on each of our cases. While we were there, each of us was given a physical exam, seen by a dermatologist, seen by a nutritionist, seen by a psychiatrist (not because we were crazy but to see how we and our families were handling the situation), asked to give blood (this ranged from 4 to 12 vials per person), given a bone density scan, photographed from a variety of angles, asked to participate in a facial videography study (a fascinating process), and met with a geneticist. All of this was meant to provide more information for the researchers.
One of the high points of the visit was an individual meeting with the full research team. In the room were doctors from NIH, Fox Chase, MD Anderson, Dana Farber, Sloan Kettering and probably a couple more I can't remember. Each of them had a full copy of our records and it quickly became evident they were well informed about our cases. In my meeting, we reviewed my current situation and discussed options for future treatment. We also discussed any questions I had. By the end of the session I felt fully informed of my situation and options. It was a wonderful meeting. This was echoed by the other participants.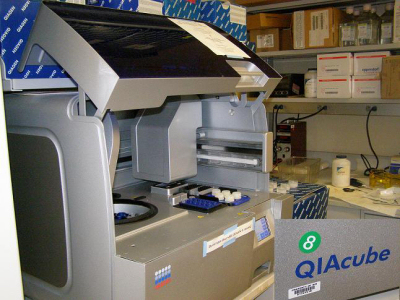 The other highlight was an optional tour of Dr. Helman's research lab with Dr. Kim as our tour guide. This was an unbelievable experience. We were shown the process used to extract DNA from tumor samples. (They have a robotic machine that completes the extraction process in about two hours. A human would take about a week to complete the same process). We were also shown a process for marking cancer cells so they can be visually followed once they are introduced into a live subject (they use the chemicals that fireflies use to light up and that jelly fish use to floresce). We were also shown how cells move and fill voids, which is an indicator of how cancer cells metastasize. We were also shown the preliminary results of a new approach that restricts cell movement, which Dr. Kim believes will lead to a drug that may slow or stop the metastatic process. Finally, we were shown a microscope that was powerful enough to see inside a mouse, to and follow cells as they move through the mouse's arterial system. This was done without making any incisions.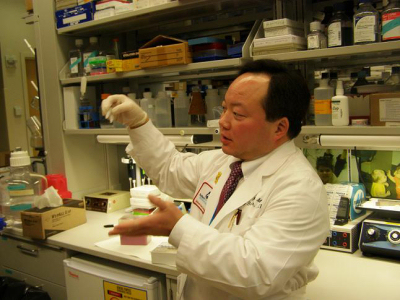 All of this was a lead up to the real reason for the tour and our inclusion in this study. In order for researchers to study Wild Type GIST and develop effective treatments and possible cures, the researchers need to have living cell lines of Wild Type GIST. These cell lines, once developed, will continuously generate new GIST cells so researchers can try all sorts of experiments with them. To date there are no Wild Type GIST cell lines to use in this critical research. The only way cell lines can be developed is to extract cells from tumors immediately after they are removed from the body. This has to happen in the operating room at the time of surgery. To date, no surgeries on Wild Type GIST patients have occurred at NIH. However, Dr. Kim (pictured at left) said that if a patient was having surgery and the hospital where the surgery was taking place had the necessary equipment, he would come to the facility, and use the harvested cells to start the process. He repeated several times that the key was for the patient to inform him of the surgery so he could contact the hospital and make the necessary arrangements. Absent the development of the needed cell lines, research on Wild Type GIST will be limited for the foreseeable future.
I think I can safely say all of us who went to NIH had a very positive experience. We learned a lot about our cases and about our options. We also learned a lot about what the experts are doing to address our disease. If all of us will make the effort to work with NIH to get the needed cell lines established, the future looks very good for research into our disease.