GIST Support International - News from the First NIH Pediatric GIST Clinic

News From the First NIH Pediatric GIST Clinic:
National Institutes of Health Holds First Specialty Clinic for Pediatric GIST

On June 19, 2008 fourteen pediatric GIST patients traveled from all over the USA as well as Europe to meet at the National Institutes of Health campus in Bethesda, Maryland for the ground-breaking Pediatric GIST Clinic.  NIH first announced plans for the clinic in November, 2007.  Extensive coordination was necessary to bring together top GIST professionals to initiate this ongoing clinic series for patients who developed GIST as young people.
The NIH Pediatric GIST team is made up of the following professionals:
Lee J. Helman, MD: Pediatric Oncologist, Scientific Director of Clinical Research, National Cancer Institute
Constantine A Stratakis, MD D(med)Sci: Pediatric Endocrinologist / Geneticist, National Institute of Child Health & Human Development
Ann Berger, MD: Pain Management Specialist
Peter Choyke, MD: Radiologist
Sherri DePollar, PCC: Patient Care Coordinator
Jennifer Graf, MS RD: Clinical Research Dietitian
Su Young Kim, MD PhD: Pediatric Oncologist, Pediatric GIST Clinic Coordinator
Lauren Long, RN: Research Nurse Specialist
Barbara Santangini, LICSW: Clinical Social Worker
Maria Tsokos, MD: Pediatric Pathologist
Lori Wiener, PhD: Pediatric Psychosocial Specialist 
NIH also appointed the following National Pediatric GIST Team members to assist NIH staff in the quest for a cure for pediatric GIST:
Christina Antonescu, MD: Pathologist, Memorial Sloan-Kettering Cancer Center
George Demetri, MD: Medical Oncologist, Dana Farber Cancer Center
Katherine Janeway, MD: Pediatric Oncologist, Dana Farber Cancer Center
Michael Laquaglia, MD: Pediatric Surgeon, Memorial Sloan-Kettering Cancer Center
Alberto Pappo, MD: Pediatric Oncologist, Texas Children's Hospital
Phyllis Gay: GIST Support International's Pediatric Coordinator /International Pediatric Support Group List-Serv Manager
Norman Scherzer: Executive Director, Life Raft Group
Researchers involved with the NIH clinic have already published many medical papers concerning pediatric GIST, including several new articles in the last few months alone.  Hopefully the new insights generated through the NIH clinic series will stimulate more research progress and yield a better understanding of the causes of pediatric GIST as well as strategies to treat it effectively.
Goals
The NIH Pediatric GIST Clinic hopes to bring healthcare providers who have the most experience in treating pediatric GIST patients together with every child and young adult with pediatric GIST.  The hope is to create a database of all young patients with GIST from all countries, containing as much information as the patients can provide.  As a start toward the database, the following information was obtained from each of the 14 patients who attended this first clinic: clinical history, response to prior treatments, histopathologic results, radiographic assessments, and genetic/molecular analyses.
A website at : www.pediatricgist.cancer.gov  will be established to provide patients and primary GIST physicians (with patient authorization) access to their personal folders.  The data collected will be updated and summarized every three months. The secure NIH website is targeted to be up and running in September, 2008.
The ultimate goal of the NIH pediatric GIST clinic is to find a cure for pediatric GIST. The initial goal is  to use  the data that is obtained from the clinic and the web-based database to design an investigative national treatment protocol with the following components:
Biological
Molecular
Radiographic
Pharmacokinetic
Team Meeting Prior to the Clinic
The National Pediatric GIST Team met with NIH scientists on Wednesday afternoon, prior to the clinic.  Two representatives of GIST Support International attended:  Phyllis Gay and Becky Bensenhaver (a member of GSI's science committee, who herself has wild-type GIST).  The scientists on the NIH team want to determine the biological differences between older and younger patients with GIST.  At the meeting the definition of pediatric GIST was discussed at length.  There was debate about establishing an age-of-onset cut of 18 or 21 years.  However, all agreed that, regardless of age, some attention must be given to the biological factors of the tumors in labeling a GIST tumor as pediatric-type versus adult.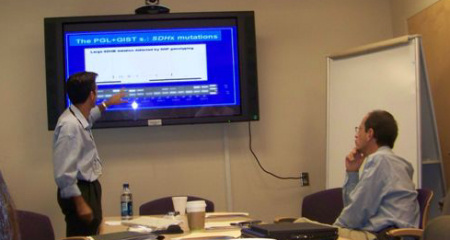 Dr. Stratakis makes a point during the team meeting, as Dr. Demetri listens.
Welcome Session
On the evening prior to the June 19 clinic appointments the NIH organizers held a welcome session at 5pm at the Children's Inn.  Lee Helman, MD welcomed all the participants and introduced the other clinic staff to the families attending the clinic.  Cathy Russell, CEO of the Children's Inn, also welcomed the families. Those patients who were under 21 were housed with their parents on a complimentary basis at the Children's Inn during the clinic.  Two pediatric GIST patients, Jacqui Bromberg and Ashley Young, spoke on behalf of Liferaft Group.   GIST Support International's pediatric coordinator, Phyllis Gay, also gave a welcoming speech and discussed the relevance of the GSI pediatric listserv, gave some statistics on the growth of the listserv members in such a short time since January, 2007, and reiterated the importance of the NIH clinic making reference to the "wow" factor that all must be feeling as they participated in this first ever pediatric GIST clinic.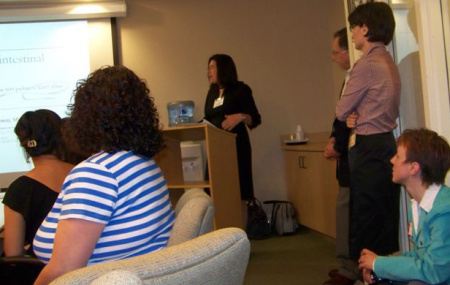 Dr. Janeway summarizes during the welcome session.
Su Young Kim, MD, the key person who has communicated with the 14 patients who were in attendance, gave an overview of the clinic schedule for the next day.  Finally, Katherine Janeway, MD presented an update on laboratory and clinical findings about Pediatric GIST.  After a short question and answer period, the Children's Inn provided pizza and refreshments for all. Many patients and families mingled and got to know each other better after the meal.
Experts' Statements
When asked about the importance of this first Pediatric GIST clinic, Dr. Cristina Antonescu, pathologist and GIST researcher, had the following to say:
"The meeting will have many important aims:
to confirm diagnosis of cases that have not been evaluated by experts in the field
to expand our understanding regarding the natural history and biology of this indolent disease
to contribute tissues for the research community that can be tested for mutation analysis and other potential markers
to better evaluate the incidence of Carney's triad among pediatric GIST patients and obtain tissue samples for comparison"
Dr. Antonescu is one of the researchers who has published multiple articles on pediatric GIST and who continues to study the disease. She maintains a tissue bank of pediatric GIST tumor tissue in coordination with other researchers, specifically Constantine Stratakis, MD of the NIH. 
 
Dr. Constantine Stratakis of NIH said the following about this pediatric clinic: "My hope is that we will find the gene(s) involved in patients with GISTs (and related tumors) so that we can have better treatments for them in the future."  Dr. Stratakis  is continuing the Carney Triad research of Dr. Aidan Carney, who discovered Carney Triad (GIST, paraganglioma, and pulmonary chondroma).  Dr. Stratakis and Dr. Carney together identified a separate hereditary condition, the Carney-Stratakis dyad (GIST and paraganglioma, affecting males and females equally).  Dr. Stratakis maintains and is adding to the tissue bank originally started by Dr. Carney.

Clinic Participants and Appointments
Out of the 14 patients attending the break down of ages and gender was
1 male 10-12 years
3 males >18 years
2 females15-16 years
6 females >18 but < 30 years
2 females >30 years
During the actual clinic sessions on June 19, 2008 patients were scheduled a 30-minute slot with each of multiple specialists.  The oncology appointment included a round table session with the patient and the top professionals in the field.  All specialty groups including research, oncology, and surgery from both the NIH and the country were present.  The doctors had already discussed each patient's history including scans, surgery history, drug therapy history, and response to drugs.  During the oncology session, doctors allowed patients and/or parents to ask any and all questions in relation to the pediatric GIST diagnosis. 
Questions and Ideas
Many participants had questions in common, and the NIH has agreed that placing these questions and answers on the NIH pediatric GIST clinic website in the future might be a possibility in an effort to help all pediatric GIST patients who might share the same questions.
Researchers announced that the insulin-related growth factor receptor 1 (IGF-R1) is indeed a new area to examine in wild-type pediatric GIST.  This receptor appears to be  over-expressed in pediatric GIST.  A new phase II trial is planned to begin soon to investigate an antibody intravenous drug against IGF-R1 for both adult and pediatric wild-type GIST.
It was mentioned that studies are now ongoing on Nilotinib's effectiveness against wild-type GIST.  Sutent has shown some response in a small study on wild-type GIST.  Most agree that Gleevec has not shown the same success against wild-type GIST that has indeed been demonstrated in mutant adult GIST.
Genetic testing and research continues in a crucial role, not only with testing for mutational defects, but also testing for losses of certain genes being a possible key in solving this pediatric wild-type GIST.  Testing for the succinate deyhydrogenase genes SDHD, SDHC, SDHB, SDHA and somatic defects in SDH was discussed. In the near future, most pediatric wild-type GIST patients might want to ask for this test on all future tumor resections.
Researchers also are striving to create a cell line from a pediatric wild-type GIST tumor  for use in further investigations. 
The Next NIH Clinic
Plans for the next Pediatric GIST clinic at the NIH are definite.  Specific dates will be determined after this first clinic is reviewed and analyzed.

Phyllis Gay
Pediatric Coordinator, GIST Support International
Pediatric / Carney Triad listserv manager
Mom of Kara, age 15 carney triad
For more photos link to our Photo Gallery http://www.pbase.com/yblixt/nih_meeting