GIST Support International - NIH Update: Second Clinic & Website


Update on the Pediatric and wildtype GIST Clinic at the NIH
by Su Young Kim, MD PhD

The National Institutes of Health was proud to host the 1st Pediatric GIST clinic this past summer.  The inaugural clinic was very successful, thanks to the many people who volunteered their time for this endeavor.  This included the participation of doctors from across the nation, healthcare providers at the NIH who provided their expertise in a variety of fields, patient advocates from GIST Support International and Life Raft Group who contributed valuably to our discussions, but most importantly, the patients and families who took the time and the effort to travel to the NIH to attend.  Post-clinic surveys showed that the most informative aspect of the clinic was the opportunity for patients to ask specific questions relating to their care to the panel of doctors in attendance.  Although appointment times were limited, our suggestion that patients come prepared with a list of questions that they wished to ask, in order of importance, allowed us to address the most pressing issues.
The goal of the Pediatric GIST clinic was to obtain as much information as possible from younger patients with GIST.  We were very successful in fulfilling this objective, again thanks to the enormous amount of work that patients and their families performed to send us their medical records.  What we found was that the fourteen patients who attended the inaugural clinic were very diverse in all aspects of their medical histories. 
View Poster Presented at CTOS
A summary of our findings was presented as a poster at the Connective Tissue Oncology Society (CTOS) meeting in London on November 14th, 2008 (see photo below).  Click here to view the poster as an Adobe pdf.  Once you have opened the file, you can change the magnification within the Adobe Reader program to view one column at a time in larger font.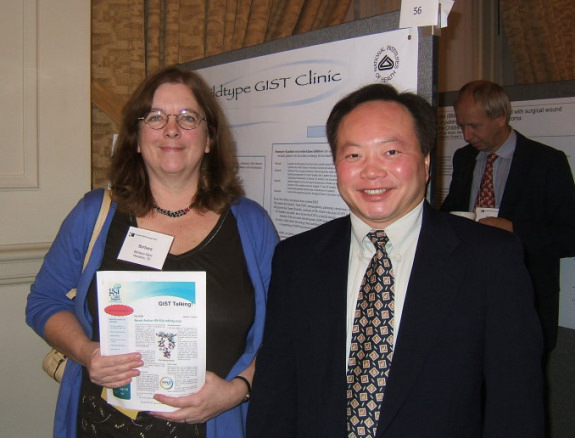 NIH website now open!
These results are available via our new website, www.pediatricgist.cancer.gov.  Our hope is to present complex clinical and research material using language that anyone will be able to understand without the need of a dictionary. 
Second Clinic January 22-23, 2009
There will be many changes for the forthcoming 2nd Pediatric and wildtype GIST clinic at the NIH.  The first is the change in the title from "Pediatric GIST" to "Pediatric and wildtype GIST".  This is based on the finding that almost all young patients do not have mutations in the genes KIT or PDGFRA, therefore termed wildtype.  A percentage of older individuals are also wildtype, and it is our belief that older wildtype GIST patients may resemble patients with Pediatric GIST.
Based on this change, the age range of the participants in the second clinic has increased.  To date, we received 14 requests to participate in the 2nd Pediatric and wildtype GIST clinic at the NIH on January 22nd and 23rd 2009.  We extended invitations to 12 patients, and we have extended provisional invitations to the other two patients.  Our philosophy is that children with GIST represent a very rare population and deserve foremost consideration.  Therefore, we will continue to prioritize registration for younger patients.  Anyone who was diagnosed prior to the age of 18 who wishes to attend, will be guaranteed a spot in the January 2009 clinic.
More Social Interaction Opportunities
The post-clinic surveys also mentioned that there were too few opportunities to interact socially with other participants.  Part of this problem was due to the short duration of stay at the NIH, combined with a very hectic appointment schedule.  To alleviate the frenzy of a day too busy, we are now requesting that clinic patients arrive Wednesday evening.
Beginning on Thursday, following a brief introduction session, patients will see a NIH physician for a history and physical examination, followed by meetings with a wide range of specialists, if requested.  Thursday evening will be the official welcome to the NIH, with the introduction of patients and families and medical specialists.  This will be followed by the second Pediatric and wildtype GIST lecture, given by one of the physicians in attendance.  During and after diner, we will provide a more structured environment in order to foster interactions with other patients.  On Friday, patients will have the opportunity to ask questions to the panel of physicians.  Throughout the day, they will also have the option of attending a host of seminars that address other aspects of cancer, including alterative/complementary approaches, recreational/art therapy, relaxation techniques, nutritional tips and others.
Register Now
The NIH Pediatric and wildtype GIST clinic encourages everyone with pediatric or wildtype GIST to contact the NIH and register for subsequent clinics (ncipediatricgist@nih.mail.gov).  By attending these clinics, patients will help advance basic science and clinical research for GIST.  Your information and medical history will add to a valuable database that acts as the foundation for continued advances in Pediatric GIST.

Su Young Kim, MD PhD
Pediatric GIST Clinic Coordinator
Pediatric Oncology Branch
National Cancer Institute
National Institutes of Health