GIST Support International - Stacey's Story

Stacey's Story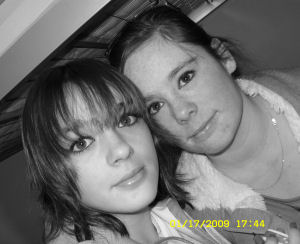 My sister Sammy (left) and me.
I was pretty much a normal kid up until March of 2002. I started to feel tired all of the time and was fainting almost every time I stood up. I missed over a month of school which at this point for me was very rare. After more than 12 trips to the doctors' surgery I was finally admitted to hospital, where they discovered that instead of my haemoglobin being at 12.0, it was at 3.4.  I ended up having a transfusion with over 9 bags of blood going in. As I was only 11 at this time I was terrified.
As my haemoglobin was so low, one consultant decided that he wanted to perform an endoscopy. This endoscopy showed that I had thirteen small tumours in my stomach and in the surrounding area of small intestine. When I was told this I was very frightened and didn't know what it meant. Also I was eating at the time and for the first time ever I stopped after the consultant showed me the picture of what they saw. I was relieved when the consultant said that I could have the tumors removed.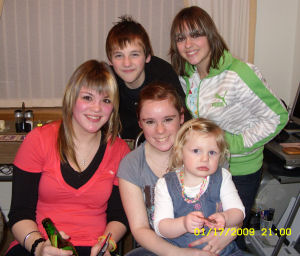 Front:  My cousin Robyn, Me holding my cousin Alexandra.  Back:  My cousin Connor, my younger sister Sammy.
The operation was scheduled for the 28th of October 2002. The operation lasted five hours. When I came round I had morphine and many other forms of pain relief. I was relieved to find out that the operation was a success and although I was scheduled to stay in hospital for 12 days I amazed my doctors by coming out 6 days after I had my operation. The tumors were biopsied and 2 months after my surgery I was diagnosed as having GISTs. My family was so shocked we couldn't find any words to say. The first thing that was said was they could be cancer but more tests would have to be done on the removed tumors to find out for sure.
As the case was so unique in Scotland, I had to visit many different kinds of doctors and specialists and get monthly check-ups. A year and a half after my operation I was told that some tumours had returned but surgery wasn't an option. Instead in August of 2005 I started Glivec. It made me feel nauseous and gave me really bad pains in my stomach. I had to take a lot of time off of school and fell behind. However when I returned to school after a month off I caught up with my classes in four days.
blank line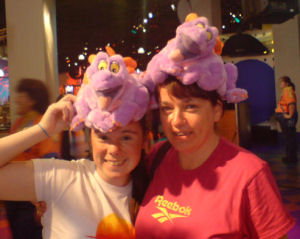 Me with my Mum.
Eventually in the August of 2006 I stopped taking Glivec because the tumours never changed in size. This meant that the doctors had to find a solution of how to stop the tumors growing. However during the next few months the tumors started to grow and unfortunately in the October of the same year I had to start the Glivec again. This time the dose was increased to 800mg a day, and I didn't tolerate it well at all. I was sick almost every time after taking it and it dramatically reduced my appetite. I used to be able to clear a dinner plate for 3 meals and now I could only eat 2 small plates a day- on a good day. After much discussion (and more scans and endoscopies) it was decided that I would again stop taking the Glivec in November 2006. 
From November 2006 until February 2008 I hadn't taken any medication. However as the Glivec was so strong it took around 4 months before it was completely out of my body. So when it was gone I didn't have any pain or discomfort. I decided that I would forget anything had happened and hope that the tumors would let me get on with a normal life.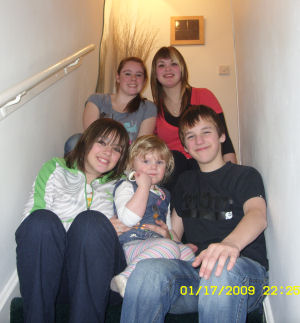 Me with my sister and cousins.
The best pain relief that I have are my family and friends. Whenever I feel down or ill they always manage to pick me up. My little sister Sammy always jokes to cheer me up and lies beside me when I am sick. We have grown closer than we were before GISTs got hold of my life. My friends are the best because they have all stuck by me and never made me feel any different from them. Also anybody who doesn't know about the condition I have wouldn't ever guess, as it doesn't have any thing that people can see.
In March 2008 I got a new consultant who decided it was best to have surgery to remove the tumors that were in my stomach to see if it would get rid of them. So my surgery was scheduled for the 24th of June 2008. We were told the surgery would last three hours but it lasted five. Before the surgery, the surgeon thought he would only have to take away 10% of my stomach but because of where the tumors were situated I ended up with just over half taken out. Again I recovered quicker than the doctors thought and was home a week after the surgery. The biggest thing I had to get used to after this surgery was the even bigger reduction in my appetite. As I only had half a stomach I could eat three bites of something then have to stop.
Gradually over time I built my food intake up, however I eat much less than the rest of my family. In fact my 2 year old cousin eats more than me. As a result of eating way less than I used to I lost around a stone and a half in weight-much to the disappointment of the dietician I had been seeing.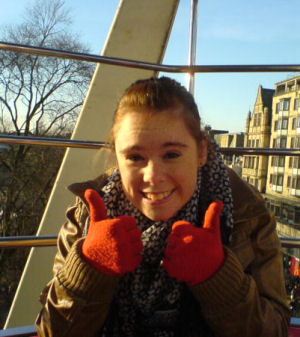 Me now:  Thumbs Up!
When I first got diagnosed with GISTs and the doctors told me they didn't know much about it, I thought that I was going to have a life of being ill forever. However due to positive thinking that I have done I don't let the GISTs be my life. When I was eight I decided I wanted to be a nurse and when I went into the hospital I knew that I wanted to look after sick children. I applied to university last year before my operation and in December of 2008 I found out that I have been accepted to do Paediatric Nursing in a full-time 3 year course.
Today I only have one tumor left in my oesophagus which hasn't grown in 6 years and hopefully never will. I have one appointment with my consultant left and then I am free from hospital for 3 years. So Gists hasn't been kind to me and it has taken away 7 years of my life but it has done some good, amazingly. It has brought my family closer together and we spend more time together than other families I know.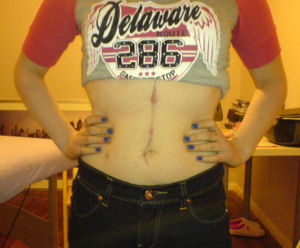 Also it has left me with a rather large scar. From my breast bone to my belly button and round and even though it is red and not the most attractive thing in the world, I am proud of my scar and I wouldn't be me without it. It also seems to have a big fan in my sister, as she always asks if she can feel it and she spends ages looking at it.
I don't know what is going to happen in the future. I may have to have another surgery or more treatment. What I do know that is whatever this condition brings, I will face it with a smile and my family beside me.
blank line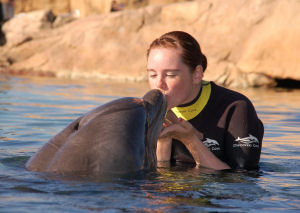 If anyone wants to get in touch with me, I have a face book (just type in Taye McAully) and an email address-just get in touch through the site.
Love Always,
Stacey
Fall 2009 Update:  A new scan showed something in my lungs, so I had a checkup in August.  I was diagnosed with Carney Triad.  In addition to GIST, I have pulmonary chondromas and an esophageal tumor.  I am at university now and loving it!