Videos are now available!
G

IST

I

nformation

S

upport &

T

herapy

S

ummit (

GISTS

)
at MD Anderson Cancer Center, Houston, on October 10th, 2009!
82 GIST patients and family members attended the GIST Summit, which was a huge success. Videos of all the presentations are available now!  Go to the program table below and click the "watch video" icon for the talk of your choice.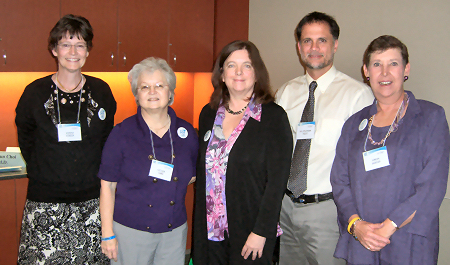 The organizers for this exciting event were Barbara Dore', Dr. Jon Trent, and Ginger Sawyer (shown at the right-hand side of this photo). GSI co-managers Marina Symcox and Lee Ann Lamb (at the left-hand side of this photo) also joined in the meeting.
See more photos below the program, further down this page.
The GISTS event, lunch, and refreshments were free of charge, thanks to generous gifts from sponsors. An initial grant from Novartis Oncology, plus a supplement from Infinity Pharmaceuticals to cover the large number of pre-registered attendees, funded the event.



Video-recording of the presentations was accomplished thanks to a grant from Pfizer Oncology, to enable non-attendees to watch the event on our website.
Click links in Program table below to watch videos
or to view slides.
We are very grateful to our sponsors for making this event and its video-recording possible!
Program
8:30
Registration and coffee
9:00
Welcome
9:15
Jonathan Trent, MD: New Therapies for GIST
 To view slides CLICK HERE
10:00
Peter Pisters, MD FACS: Adjuvant therapy and surgical management of GIST To view slides CLICK HERE
10:45
Coffee
11:15
Haesun Choi, MD: Radiologic imaging: Responding or Not Responding — Lessons from the GIST Model

12:00
Ask the Expert Session featuring Haesun Choi, MD and Pat Neal, RN

12:45
Lunch and Social Time
2:00
Pat Neal, RN with Ginger Sawyer and Carol Gangstead: Side effects of Tyrosine Kinase Inhibitors
 To view slides CLICK HERE
2:45
Suzanne George, MD: The Role of Drug Plasma Level Testing in Metastatic GIST
 To view slides CLICK HERE
3:30
Coffee and Social Time
4:00
Ask the Experts session featuring Suzanne George, MD; Laura Nolden, MS; and Tony Conley, MD

4:45
Closing Statements
Everyone had a great time and learned a lot at GISTS!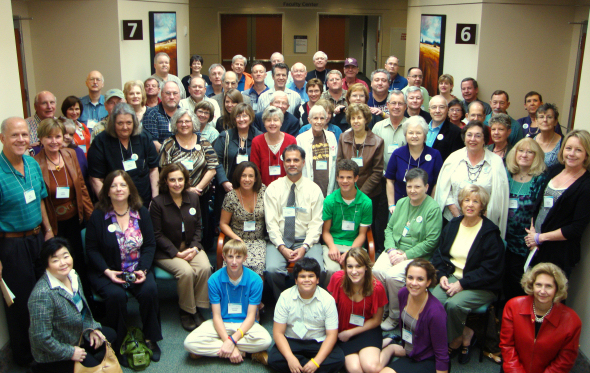 The medical professionals who made presentations were terrific!
| | |
| --- | --- |
| | |
| Dr. Jon Trent and Dr. Suzanne George | Pat Neal, RN and Dr. Haesun Choi |
| | |
| --- | --- |
| | |
| Dr. Peter Pisters | The MDA facility was great! |
We enjoyed time to socialize with other patients and to see the posters.