Best Links
This page shows links to particularly useful organizations and websites relevant to gastrointestinal stromal tumor (GIST cancer).
The NCCN is a group of comprehensive cancer centers which produces useful guidelines for diagnosis and treatment of various cancers.  Specific to gastrointestinal stromal tumor (GIST cancer) see the following downloadable documents, which you can access after you complete a free registration process.
This is the patient-oriented section of the NCCN website (see above).
This site contains useful information for patients and caregivers on living with cancer during and after treatment.  It includes information about making treatment decisions, paying for treatment, and life beyond cancer, as well as current news about cancer-related issues and events.

This multidisciplinary research and treatment collaboration at the National Insitutes of Health is geared to understand the basis for wildtype GIST in patients of all ages, as well as pediatric GIST (defined as diagnosed by age 18).  Their website is quite informative and includes free access to many medical papers about GIST.
1-888-462-9368
The Max Foundation is a US-based international non-profit dedicated to improving the lives of people living with blood cancer and rare cancers worldwide.  The organization focuses attention on assisting disadvantaged populations in developing countries and elsewhere, including the US.   The Max Foundation's International Patient Helpline provides free services of advocacy, emotional support, informational referrals and help finding emergency funding.  The MAX Foundation administers Novartis' Glivec International Patient Assistant Program (GIPAP), plus other local access programs, and assists with treatment access on a case-by-case basis.  Through a highly dedicated team of US-based and local advocates based in targeted countries, families receive personalized support services.  Each year The Max Foundation provides free services to over 16,000 families in more than 100 countries.  For questions you can e-mail help@themaxfoundation.org
1-800-532-5274
Patient Advocate Foundation is a national non-profit organization that seeks to safeguard patients through effective mediation assuring access to care, maintenance of employment and preservation of their financial stability.
https://www.sutent.com/GIST  This Pfizer website provides information about use of Sutent for GIST
This Novartis website provides information about use of Gleevec for GIST.  Financial assistance for Gleevec for non-USA patients is handled through the MAX Foundation (see link above on this page).   In the USA the  Novartis Oncology Reimbursement Hotline (1-800-282-7630)  will be able to provide assistance with the reimbursement process for Novartis products.
Novartis maintains a Facebook page for patients taking Gleevec.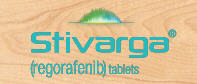 This Bayer website provides details about how to take regorafenib (Stivarga), managing side effects, access to a detailed patient ed
ucation booklet that can be downloaded as a pdf, as well as other resources.
Dial 866-639-2827 to speak with an oncology nurse who can help answer questions about taking regorafenib (Stivarga) or sorafenib (Nexavar), managing side effects, and other patient concerns.   This assistance program also helps patients who have been prescribed Stivarga or Nexavar to access medication by identifying specialty pharmacies and addressing insurance and reimbursement concerns.
The free Clinical Trial Matching Service is made available to GIST Support International (GSI) members and visitors through a collaboration with EmergingMed. This service is designed to be a simple, confidential way to obtain information about clinical trials pertaining to Gastrointestinal Stromal Tumors.
This is GSI's page about clinical trials.
The mission of the GIST Cancer Awareness Foundation is to provide informational support to GIST patients and their families through established community support groups;  increase public  awareness of GIST using private and public media tools;  and to raise funds to award research grants for the expanded investigation of GIST.
Cancer.net provides oncologist-approved cancer information from the American Society of Clinical Oncology, including monthly Q&A topics.  This site replaced ASCO's previous patient-oriented site "People Living with Cancer."
This site is a guide to medical tests: how and why they are performed, and what the results mean.  It is sponsored by a large number of professional associations as a public service.
The AICR is a nonprofit organization providing scientifically-based, practical information about diet and nutrition and cancer.
This page of external links we have assembled covers several categories…