GIST Summit September 14, 2013!
at  M.D. Anderson Cancer Center, Houston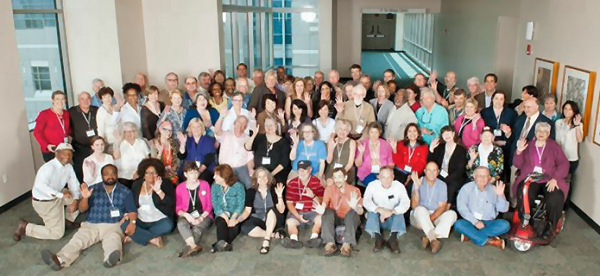 Dr. Neeta Somaiah and Dr. Jonathan Trent, in partnership with GIST Support International (GSI), held the Fifth Annual GIST Summit held on Saturday, September 14, 2013, at M.D. Anderson Cancer Center in Houston.  This was a great opportunity to learn a lot and to meet other patients affected by gastrointestinal stromal tumor (GIST) and their family members and friends.
You can watch videos  of GIST Summit 2013 by linking from the program table below.
We had another exciting program this year, with an impressive group of experts and a wide range of topics– scroll down for full details on the speakers and the agenda. The topics we covered during the day include GIST diagnosis and treatment, surgical management of GIST, the impact of genotyping (mutation testing) on treatment decisions, recent advances in treatment choices, and the latest in GIST research  directions, plus small-group breakout sessions and a question-and-answer session with a panel of experts.  Patients were able to discuss GIST issues with the experts and had plenty of opportunity to ask those questions you always meant to ask, as well as having plenty of time to meet with other GIST patients and caregivers and to share experiences.
Patient Video Filming! During the lunch break there was a special opportunity for patients and caregivers to make short (1-3 minute) films to give hope and encouragement to new patients.
This free-of-charge Summit was sponsored through educational grants from Novartis Oncology, Bayer HealthCare Pharmaceuticals, and Pfizer.  The program lasted a full day, with breakfast, lunch, dinner and refreshments provided.
Venue: M D Anderson Rooms 1-8, 8th Floor,   Cancer Prevention Building at 1155 Pressler Street, Houston 77030.   Time: 8:00 A.M. – 7:00 P.M.
Agenda for GIST Summit 2013
8:00 am
Breakfast and registration
9:00 am
Welcome by Neeta Somaiah, MD and
Ginger Sawyer, program chair

9:20 am
  Jon Trent, MD PhD
GIST 101: So You've Learned you Have GIST — What Now?
View Slides

10:00 am
 coffee
10:20 am
Kelly Hunt, MD FACS
Advances in GIST Surgery
 11:10 am
Robert S. Benjamin, MD
Mistakes I See in GIST Management and Ethical Issues In Clinical Trials
11:40 am
 Jon Trent, MD PhD
Managing GIST: Advancements in Molecular Profiling and Treatment Choices
12:20 noon
 Lunch
Filming Patient Testimonials
Poster Display
Visiting with Speakers and Pharmaceutical Representatives
1:45 pm
Barbara Livermore
GIST Cancer Awareness  Foundation

2:00 pm
parallel
workshop breakout sessions
1. Kathleen Kerr, PA-C
2. Amy LaMarca Lyon, MSW, LCSW, OSW-C
1. Therapy Management
2.  Financial and Insurance Issues
3:00 pm
Anette Duensing, MD
 What's Going On in the GIST Research World?
3:30 pm
  coffee break
4:00 pm
Alexander Lazar, MD PhD

The Basics of Clinical Genotyping —  Relevant Insights for Patients

4:40 pm
 Ask the Experts Q&A session
chaired by Alexander Lazar, MD PhD and
Neeta Somaiah, MD

5:45 pm
 Closing Remarks and Adjourn to Dinner