Welcome to the 10th Annual GIST Summit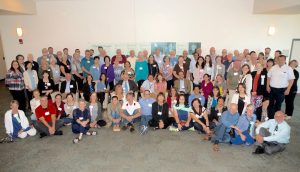 at MD Anderson Cancer Center, Houston
on September 22nd, 2018!
Dr. Neeta Somaiah and Dr. Jonathan Trent, in partnership with GIST Support International (GSI) and M.D. Anderson Cancer Center, are pleased to invite you to the Tenth Anniversary GIST Summit to be held on Saturday, September 22, at M.D. Anderson Cancer Center in Houston.
This free-of-charge Summit is being sponsored through educational grants from Novartis Oncology, Bayer HealthCare Pharmaceuticals, Pfizer, Deciphera, Blueprint, AROG, and Ignyta.  The program will include numerous presentations on the current state of GIST as well as future treatments and conversations with the experts. All meals and refreshments will be provided.
GSI hopes you will join us for these relevant and informative talks, meet with old friends and new, and catch up on the latest science.  Our nine previous GIST Summits have been great successes, and this year's program is exciting as ever. (It is printed on the reverse of this invitation.) Where else can you discuss GIST issues with the experts and ask questions you always wanted to ask? You will also have time to meet with other GIST patients and caregivers and to share experiences.
We are looking forward to seeing you at GSI's 10th Anniversary GIST Summit!
Venue: M.D. Anderson Rooms 1-8, 8th Floor, Cancer Prevention Building at 1155 Pressler Street, Houston 77030.   Time: 8:00 A.M. – 7:00 P.M. Register Now: http://www.gistsupport.org/gsi-community/gist-summits/gists-2018-meeting/
AGENDA
TENTH ANNIVERSARY GIST SUMMIT, SEPTEMBER 22, 2018
8:00 a.m.   Registration and Breakfast
 9:00 a.m.   Welcome from Summit Faculty
Neeta Somaiah, M.D., Assistant Professor, Department of Sarcoma Medical Oncology, Division of Cancer Medicine, The University of Texas MD Anderson Cancer Center, Houston, TX
 9:05 a.m.   Welcome from MD Anderson Cancer Center
Peter W. T. Pisters, M.D., MHCM, President, The University of Texas MD Anderson Cancer Center, Houston, TX                                                               
9:20 a.m.   GIST 101:  What you need to know about this rare cancer
Jonathan C. Trent, M.D., Ph.D., Director, Sarcoma Medical Research Program and Professor of Medicine, Sylvester Comprehensive Cancer Center, University of Miami Health System, Miami, FL
10:00 a.m.  Coffee Break
10:20 a.m.  The Pathology of GIST
Alexander Lazar, M.D., Ph.D., Department of Pathology, The University of Texas MD Anderson Cancer Center Selective (Soft Tissue) Pathology Fellowship Training Program, Houston, TX
11:00 a.m.  Surgery: The Primary Treatment for GIST
(Invited surgeon)
11:45 a.m.   Coping with GIST
Gina D'Amato, M.D., Sarcoma Medical Oncology, Director of Clinical Research, Georgia Cancer Specialists, affiliated with Northside Cancer Institute, Atlanta, GA
12:30 p.m.  Group Photo
12:45 p.m. Lunch: Filming Patient Testimonials – Poster Display – Visiting with Speakers and Pharmaceutical Representatives  
2:15 p.m.  Ten Years of Advancements in GIST Research, Therapy & Survival
Michael C. Heinrich, M.D., Professor of Medicine and Professor of Cell, Developmental, and Cancer Biology, Oregon Health & Science University, Portland, Oregon
3:15 p.m.  Coffee Break
3:45 p.m.  Will Immunotherapy be the Answer? 
Arun S. Singh, M.D., Associate Professor, Department of Medicine, Division of Hematology/Oncology, University of California, Los Angeles
4:30 p.m.  Ask the Experts—All GIST Expert Physicians—Remarks by Robert S. Benjamin, M.D., P.H. and Fay E. Robinson Distinguished Professor, Division of Cancer Medicine, The University of Texas Center, Houston, TX, who will also chair the panel
6:00 p.m.   Closing Remarks and Adjourn to Dinner