Books About GIST
100 Questions & Answers About Gastrointestinal Stromal Tumor (GIST)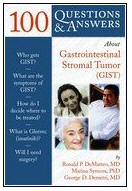 GIST Support International is extremely proud that GSI co-founder Marina Symcox has co-authored a practical book for patients with gastrointestinal stromal tumor.  100 Questions & Answers about Gastrointestinal Stromal Tumor  was published in January 2007.  You can see the publication announcement at Bartlett & Jones.  
The authors are Ronald DeMatteo MD, Marina Symcox PhD, and George Demetri MD.  Dr. DeMatteo, the famed hepatobiliary surgeon who is a leader in GIST surgery, initially conceptualized the book and spearheaded its production.
GSI is investigating arrangements for distribution of a limited number of copies through us at a reduced cost.  Check back for more on this possibility…
Examine a large image of the book's front and back cover, with testimonials, plus biographical sketches of the three authors.
Read the table of contents and Preface of the book.
GIST Patient Guide from Sarcoma UK
You can download for free an Adobe pdf file of GIST Patient Guide, written for GIST patients by Sarcoma UK