GISTS Meeting 2010 was terrific! Watch Presentation Videos here ….
G

IST

I

nformation

S

upport &

T

herapy

S

ummit (

GISTS

)
at MD Anderson Cancer Center, Houston
on September 25th, 2010!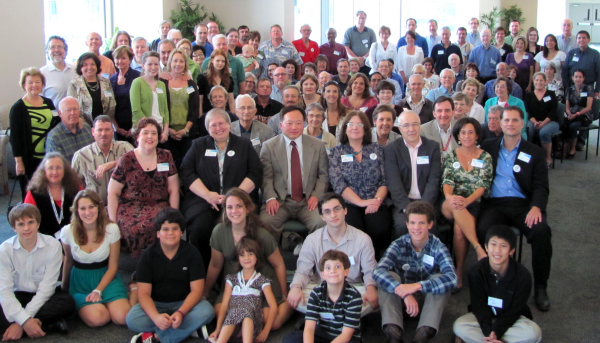 Here is the group photo for 2010… happy faces!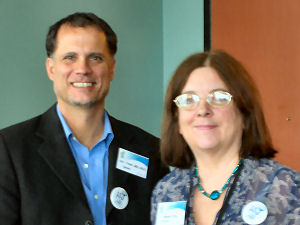 To view videos of the presentations at the 2010 GIST Summit, just click the links in the program listing shown below.
The 2010 GIST Summit was a huge success!  Over 100 patients and family members and friends came from all over to be there (even from Canada!) and had a grand time meeting each other and learning from the presenters.  About half the attendees stayed for dinner and more conversation.
MANY THANKS to Barbara and Dr. Trent for organizing this wonderful opportunity for GIST patients!
2010 Program, Speakers, & Videos
GIST 101

  View slides

GIST Treatment After Imatinib & Sunitinib: Other Drugs

Jonathan Trent,  MD PhD 

Dr. Jon Trent is Associate Professor of Sarcoma Medical Oncology at the MD Anderson Cancer Center.  His clinical, translational, and laboratory activities revolve around caring for GIST patients while developing new therapies and understanding the biology of GIST, and he also actively supports many patient advocacy activities.

  View slides

Clinical and Research Advances in Pediatric and Wildtype GIST

Su Young Kim, MD PhD

Dr. Kim is an assistant clinical investigator at the National Cancer Institute of NIH in the Pediatric Oncology Branch. Dr. Kim is the coordinator of the Consortium for Pediatric and Wildtype GIST Research.

   View  slides
 

Treatments: Interventional Radiology for GIST Liver Metastases

Sanjay Gupta, MD DNB

Dr. Gupta is an associate professor of interventional radiology at the MD Anderson Cancer Center. Dr. Gupta's clinical and research interests involve the use  of image guided interventional techniques for the treatment of liver tumors and for the  development of novel methods of targeted drug delivery.

   View  slides
 

Mutational Analysis for GIST: Why Do It & What It Means

Wei-Lien (Billy) Wang, MD

Dr. Wang is an Assistant Professor of Pathology at The University of Texas M.D. Anderson Cancer Center. Dr. Wang's primary research interest is translational sarcoma research for therapeutic, prognostic and diagnostic biomarkers and collaborates on multi-disciplinary research projects including on gastrointestinal stromal tumors.

    View  slides
 

Clinical Trials and New Drugs

David Hong, MD

Dr. Hong  is an assistant professor of Investigational Cancer Therapeutics at the MD Anderson Cance Center.  Dr. Hong's clinical interests are focused on targeted therapy, biologic molecules, new combinational Phase I studies, novel protocol designs.

    View  slides

Side Effects of Treatments

Pat Neal, RN 

Ms. Neal is currently the Clinical Care Coordinator in the Sarcoma Center.  She is also the primary nurse for Dr. Jonathan Trent with a primary focus in the treatment of GIST patients, and has been at MDACC since 1976.

     View  slides

Coping with Your GI Tract After Surgery: Diet and Nutrition 

Sara Hughes, FNP BC

Ms. Hughes is a Family Nurse Practitioner in the Department of Palliative Care and ehabilitation Medicine at M D Anderson with extensive experience in issues surrounding diet and nutrition after
surgery.

    View  slides
A Full Day — Information, Friends, & Fun!
The 2010 GIST Summit at MD Anderson was attended by 105 patients and carers from 17 States and Canada.   People of all ages came, including two babies!  The Trent team swung into action magnificently, with the kids running registration and passing out forms and microphones, and with Sharon Trent presiding over them and orchestrating the day's menu and food service.  When you add the speakers and support staff, we had over 130 people present.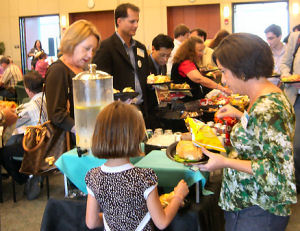 The day started at 7.30 am with breakfast and registration, and then Dr. Trent gave a thorough introduction to GIST,  followed by a description of all the drugs from first line imatinib (Gleevec) to the off-label 3rd and 4th line drugs.  Next was a talk on interventional radiography by Dr. Sanjay Gupta, which explained  the methods currently in use to destroy  small  mets  in the liver guided by imaging.
Following a coffee break, we were extremely fortunate to have Dr. Su Young Kim from the NIH speak to us about Pediatric and Wild Type GIST.  There has been an enormous amount of interest expressed in this talk from far afield as well as those closer to home, and several people travelled a long way to get the chance to  hear him and speak to him in person.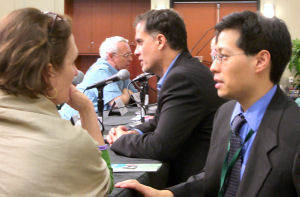 We next heard from Dr. Billy Wang,   who set the scene for explaining why we do mutational analysis by giving a brief overview of GIST and those mutations that are known to cause it.  There followed an extended lunch break, during which time everyone was invited to video-record a short message to new patients based upon their own experiences.
One feature of the day was the chance for attendees to make short videos to help new GIST patients.  The video-recording opportunity attracted people from all around the USA, men and women, patients and carers, who made inspiring statements.  The camera man who was filming was so moved and impressed he sought out various members of GSI's Board to tell them how wonderful the interviews were, so I know we in the GIST community are very grateful to all who contributed to these recordings.  They will be available on the GSI website soon.
After lunch we returned to hear from two expert nurses: Pat Neal, who has been a nurse at MD Anderson since 1976 and is the lead nurse practitioner in the care of Dr Trent's patients, and Sara Hughes, who is a Nurse Practitioner in Palliative Care at M D Anderson but has also extensive experience in Sarcoma care.  We heard about how to manage side effects of drug treatments from Pat, and about how to manage the post-surgery gastrointestinal tract  from Sara.  Following this we had a series of questions from the audience which the two nurses answered as a panel.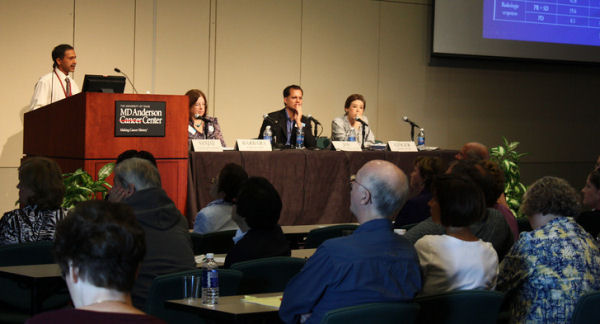 Another coffee break followed,  and then Dr. Hong gave us an overview of clinical trials and the current  financial and legal landscape that has to be negotiated in the process.  The day closed with a thank-you to all our young volunteers who had made the day so warm and friendly, and a big thank you to the Sarcoma Department administrator Pat Gabler who had done so much to ensure the success of the day.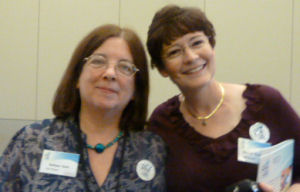 During the breaks people went to look at the dozen or so posters on display;  some GIST 101s created by Marina Symcox, some brought by speakers such as Dr Kim's on the NIH clinic, some research papers  previously presented at CTOS and ASCO, and some about GSI, the Flag Project, etc.   GIST Cancer Awareness Foundation banner and wrist bands were very popular,  and   Kath Kimball's cookbooks and GSI pins were on sale.  Both of those last items are still available to anyone who is interested – contact Barbara at Barbara@gistsupport.org
We rounded the day off with an informal buffet supper, which 52 people remained to enjoy, and finally all retired after a long and very satisfying day!  Thank you to M. D. Anderson for making the facility available to us and giving us such magnificent support. Thank you to all the Doctors who gave up their weekends to be with us and answer all our questions. Finally, thank you to all the patients and their families and friends who made the effort to come  (some from so very far!)  and make this such a memorable and joyous occasion!
Some comments from the Survey forms:
This was so awesome!  It was all relevant information and I appreciate all your work. All the presenters were great.  I leave excited about our futures.  And a special thanks to those Drs for letting us "visit" with them.
I liked to hear all the questions asked by the audience.
I thought the entire GIST Summit program was great!
Good topics, good networking time.
I loved the warm and friendly family feeling.
I hope to see you all again next year for the 3rd Annual GIST Summit
Barbara
See how much fun we had last year…
LINK HERE for photos and videos of presentations at the 2009 GIST Summit.