Radiation Treatment for GIST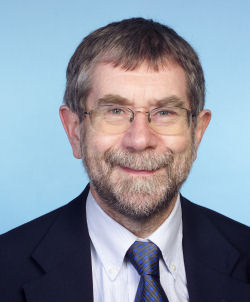 GIST Support International posed questions about radiation therapy for gastrointestinal stromal tumor (GIST) to Professor Ian Judson, MD FRCP of the Royal Marsden Hospital and the Institute of Cancer Research in London. Dr. Judson is professor of cancer pharmacology and has been involved in research about numerous new cancer drugs. He has been active in clinical trials for sarcoma drugs, including trials of imatinib, sunitinib, and other GIST treatments. Professor Judson served as president of the Connective Tissue Oncology Society (CTOS) in 2007-2008. In his clinical practice Professor Judson focuses on soft tissue and bone sarcoma, and he treats numerous GIST patients.
Although the medical literature contains numerous statements that GIST is impervious to radiation, radiotherapy may potentially be useful in treating metastases. Professor Judson and colleagues are investigating this issue and made a poster presentation about the topic at the 2008 CTOS meeting.
Below are Professor Judson's answers to our questions.
1. Is radiation ill-advised against inoperable primary GIST because it is ineffective, or because radiation cannot be used safely in close proximity to the gastrointestinal tract?
Radiation is not used for primary disease — imatinib is the treatment of choice.
2. Can radiotherapy be used against intra-abdominal GIST metastases (for example, peritoneal or mesenteric metastases)? Is this safe?
Radiation is not used for multifocal disease, as the treatment would affect too much bowel.
3. Can radiotherapy destroy peritoneal or mesenteric GIST metastases, or can it slow their growth or alleviate pain?
Although radiation cannot destroy GIST mets, it can slow their growth. However, the dose is limited by bowel tolerance.
4. What about GIST metastases to bone or to soft tissue outside the abdomen? Can radiotherapy be of any benefit in these locations?
Yes, good palliation is possible for bone metastases of GIST.
5. At the 2008 CTOS meeting you presented a poster about experience with radiation for GIST at the Royal Marsden. What were your main findings from this small case series?
The main findings from this case series were as follows:
We reported our experience with 12 patients with recurrent or metastatic GIST who received palliative radiotherapy between 2001 and 2008. Treatment was given for bone disease in 4 patients, intra-abdominal disease in 7 patients and abdominal wall in 1. Eleven of 12 patients experienced symptomatic improvement.
The dose generally employed for intra-abdominal disease was 30 Gy in 10 fractions. Clearly this indicates that radiotherapy can have palliative benefit in GIST.
6. Had the patients in your series already received imatinib treatment? Is it known whether imatinib treatment may render GIST more susceptible to radiation treatment?
All these patients had previously had imatinib. It is not known whether this affects the efficacy of radiation.
7. Would more discretely focused types of radiation be potentially more useful, such as IMRT, or the new cyberknife?
In the abdomen, suitably shaped radiation beams, as provided by IMRT or the cyberknife technique may be used to minimise toxicity to adjacent structuress, e.g. bowel, kidney, liver, bladder etc.
Conclusion: for isolated, inoperable, totally drug refactory disease, radiotherapy may be useful and is definitely valuable for controlling metastatic bone disease.